Cooking lasagna is a problem when you do not have hours to spare. Although the final product may be delicious, stacking sheets of pasta between layers of sauce and cheese is probably not the best way to spend finals week. Even more, having to wait an hour afterwards is not a quality that motivates hungry people to make lasagna. But the wait is over. Here is a recipe that cuts down the time, the workload and the messy leftovers.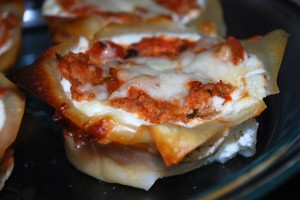 Lasagna cupcakes are the perfect variation on a traditional recipe. Each bite combines the crunchiness of the crust with the juiciness of the filling. They are perfect for a night in or for a dinner party with friends.
Lasagna Cupcakes (adapted from Can You Stay For Dinner)
12 oz ground turkey
¼ teaspoon salt
¼ teaspoon pepper
1 cup chopped onion
½ cup chopped mushrooms
1 (14.5 oz) can tomato sauce
1 tomato, chopped
2 shallots, minced
3 teaspoons dried oregano
½ teaspoon chopped basil
1 cup part skim ricotta cheese
24 small square wonton wrappers
1 ½ cups shredded mozzarella cheese
Preheat oven to 375 F.
Heat a large skillet over medium heat. Add turkey, onions, mushrooms, salt, and pepper. Press meat to crumble and sauté mixture for 10 minutes, or until meat is cooked. Add shallots and stir for 30 seconds.
Add tomato sauce and chopped tomato along with 2 teaspoons oregano. Bring pan to a boil and reduce heat to low; simmer for 10 minutes. Remove from heat.
Meanwhile, in a large bowl, combine ricotta cheese with a pinch of salt and pepper. Add remaining teaspoon oregano and basil. Stir to blend.
Spray cupcake pan with non-stick cooking spray. Place 1 wonton wrapper into each cup, pressing carefully to make sure it sticks to bottom and sides. Spread about 1 ½ tablespoons ricotta mixture in each cup, topping it with same ratio of sauce.  Sprinkle 2 teaspoons mozzarella cheese over each cupcake.
Gently press another wonton wrapper over the mozzarella layer and repeat the process, ending with a layer of mozzarella.
Bake for 10 minutes, or until wonton edges are crisp and cheese is melted. Let cool for about ten minutes and remove carefully from pan, using plastic spoon.