Guitarist and violinist Amy Klein describes herself as a "pretty shy person," but you would never guess from watching her rock out on stage with New Jersey-based punk rock band Titus Andronicus. Nor would you guess from reading the bold feminist commentary Klein writes on her Tumblr, where she posts about issues like her personal experience of getting groped by an audience member at one of her shows. Klein's posts prompted reactions from women worldwide, ultimately inspiring Klein to form a feminist group called Permanent Wave.
"Honestly, if I hadn't gotten such a response, I probably would have stopped writing about feminism," said Klein. "But then I was like, okay, clearly there's a demand for it, people are looking for someone to say these things."
Permanent Wave's first meeting took place in December. About 20 people showed up to Klein's New York City home to discuss problems women face in a male-based culture, and how they could collaborate to solve them.
The group is a community for women and allies who "commit to support each other, the arts, and activism." Klein explained that Permanent Wave does not have a definitive mission, saying that it serves different purposes to different people. For her, though, it's about "making sure feminism stays visible, and making feminism fun and cool, and something people can apply to their lives in a positive way."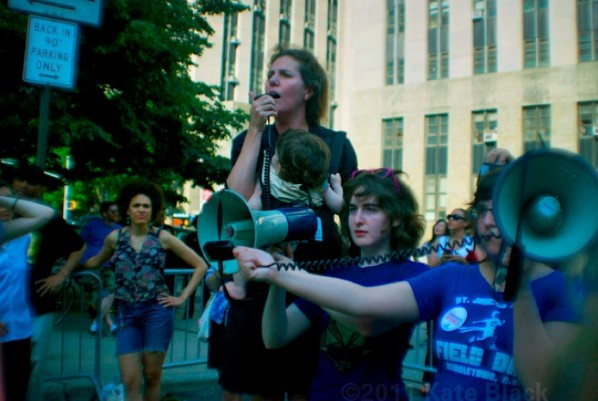 Permanent Wave has grown notably since its inception. The group's most recent accomplishment was helping to organize a protest against the acquittal of two NYPD officers accused of rape. Permanent Wave joined Feministing, Change.org, and local union organizers to assemble the protest in just 24 hours. On May 27th, hundreds of people gathered in front of the Manhattan Criminal Court to protest the officers' acquittal and demand comprehensive training on rape, sexual assault, and proper police conduct.
Klein's next move is planning an event around the Dominique Strauss-Kahn case. Strauss-Kahn, former head of the International Monetary Fund, has pleaded not guilty to criminal charges of sexually assaulting a housekeeper.
"[The NYPD protest] made me realize how awesome and necessary it is to have lots of women come together and making noise about this kind of stuff, because if we don't do it, no one is gonna do it, and these issues are not going away," said Klein. "What the media says about the [Strauss-Kahn] trials coming up is really important and influences jurors' decisions. So we have to generate a storm of support for the idea that you can trust a woman who comes forward to complain about rape."
Not all feminists agree on all the issues. But Klein insists that groups fighting for equality must unite if they want to make a difference, which is why Permanent Wave works with many related feminist groups.
"Women have been taught to not cooperate and compete with one another, and that gets in the way of coalition building. You can't get anything accomplished if you stay in your own little worldview," said Klein. "Women have a lot of shared interests no matter what their background, income level, race, or religion is. We all benefit from things like higher standards for police education when it comes to issues of sexual assault."
Additionally, Klein has found that the feminist movement doesn't just affect women. Many feminist issues have to do with freedom of expression and individual rights, which Klein says "dudes take a lot of interest in."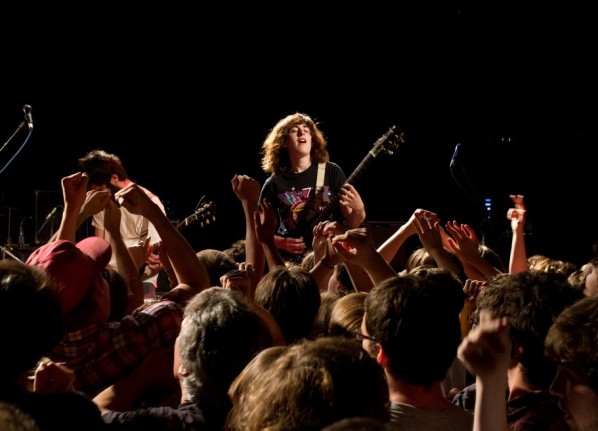 Permanent Wave also sponsors a series of shows called Sound Wave, the fourth edition of which is coming up next Thursday. Each of these shows feature female-fronted bands, with proceeds benefiting non-profit organizations. Klein says music can play an important role in empowering women, which she knows from personal experience as well as from volunteering at Rock Camp for Girls, a day camp centered around musical instruction.
"You can see lots of girls' personalities and self-confidence be totally transformed in five days of playing music – not just playing music, having tons of people, particularly women, being like, 'you rock, you're awesome, you can do it'," said Klein, going on to say that her energetic performances are "a way to show other girls in the audience that they can be loud and they don't have to apologize for having a strong presence and a big powerful sense of themselves."
Many of Klein's ideas have origins in Riot Grrrl, a feminist punk movement prominent in the 1990s. The movement, made famous in part by female-fronted punk bands including Bikini Kill and Bratmobile, focused on female empowerment by addressing issues like rape, domestic abuse and sexuality. Klein cites Bikini Kill/Le Tigre frontwoman Kathleen Hanna as a role model of hers, along with rock icon Patti Smith and activist writer Audre Lorde, among others.
Though Riot Grrrl died down in the mid-to-late '90s, Permanent Wave may have the potential to revive a greater feminist culture by forming a modern coalition of empowered women – specifically, those involved in music, the arts, and the counter-cultural community as a whole.
Along with Permanent Wave's Sound Wave shows, the group will be publishing a revolution-themed collection of work with submissions open to all. Klein believes that neither of these projects (nor the entire Permanent Wave group) would be possible without the critical power of social media.
"[Blogging] was how I was able to connect with all these cool ladies all over the world," said Klein. "I have a lot to say… now I feel like people are listening and like what I say might mean something to them."
Klein's role as a leader in the feminist community continues to grow, but she emphasizes that everyone has the potential to make change.
"Anyone who wants to do their own events, just start doing them," said Klein. "Maybe you have a lot of ideas but you don't have the resources or support or the people to make it happen. Or maybe you feel like you need permission in order to make it happen. So we're saying, we are your permission to do this."
Klein does not have definitive future plans for Permanent Wave, saying it should be "whatever everybody else wants it to be," but she hopes that it will inspire others to form similar groups to improve their communities.
"I realize how much better my life is now that I'm involved in trying to change my community for the better," said Klein. "But it doesn't have to be feminism that motivates you to do that."
If you are interested in joining the Permanent Wave mailing list, please e-mail revolution-lady-style-now@googlegroups.com.