Orienting to BU is a series aiming to help incoming freshmen in the sometimes bumpy transition from high school to Boston University. Articles will be released around each summer orientation session.
Within two days of landing at Boston University campus my freshman year, my  newly formed group of friends and I had come to a unique conclusion; If any one of us were to become billionaires set upon a life of philanthropy, we would donate a sizable portion of our wealth to BU for one very specific purpose.
The installation of moving sidewalks all across campus.
Until that day happens (or when technology makes teleportation possible), there is myriad ways for the average BU student to haul a book-filled backpack across this intimidating campus.
The most glaringly obvious mode of transportation across BU and throughout Boston is the blessing and curse that is the T. Administrated by the Massachusetts Bay Transit Authority (MBTA), Boston's subway system functions as an incredibly useful way to navigate Boston. Since BU's main campus is a straight line, the T can take its impatient passengers nearly anywhere on campus.

In terms of helping students get to class on time, reliability is about as stable as a coin flip. If you're rushing out of your dorm hoping to catch the T, there is a chance that it will be pulling into your stop like some beautiful, noisy savior. There is an equal chance that it won't show up for another 20 minutes. It's all a risky game of chance. If you have a smartphone, there are applications that track T trains in real time, such as the "Excursion Boston" app. It's not always perfect, but it helps make the T slightly less elusive.
A standard T subway fare is $3.00. Fortunately, there are discounts for frequent users (i.e. BU students). One option is the CharlieCard. This magic card allows you to load any increment of money onto it that translates into discounted fares. A chart with these discounts can be found here. Another option is to link a LinkPass to your CharlieCard. Fortunately, there is a Fall Semester MBTA Pass offered to BU students through the Student Link. In purchasing four monthly passes at once, a student can save 11% off of the normal monthly amount.
Be careful, though. Buying the pass locks you into four months and college tends to feature a lot of decision changing moments.
Alongside the the T is the MBTA funded bus system that makes frequent, consistent guest appearances across campus. This isn't a major mode of transportation for students, but it does make for a popular understudy when the T just refuses to show up. Just be wary as to where the stops are; it's easy to get caught up in your music while blissfully whizzing by your intended destination. There is a schedule for the bus here.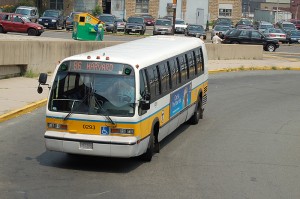 The MBTA Bus, however, is not the big-man bus on campus. No, that spot is reserved for the popular Boston University Shuttle (the BUS). It's so popular that it's rarely ever seen without people running after it.
The BUS is a free accommodation for BU students and a lifeline for students who live either in West Campus, East Campus or South Campus. It follows a strict schedule that can be found in residence halls, online, or on the hugely beneficial Boston University Mobile application for smartphones. Be warned, the BUS is not a fun place for claustrophobes. At peak hours (standard class hours, especially in the morning), the BUS will fill to maximum capacity (and then some more).
Despite these frequently used attractions, there is nothing more reliable than providing your own transportation. Either by bicycle or by foot, it will never fail you, it's cheap, and it never forces you into close quarters with someone who didn't shower that morning.
Biking across campus is for the skilled and bold. In city traffic, cars will want to end you. Pedestrians will appear out of thin air. Bicyclist/pedestrian crash-watching is practically a BU past-time. But when handled well, the bicycle can be the ultimate, independent tool of transportation. There's a fair amount of bicycle parking too.
And for those of you who haven't come equipped with your own bicycle? There's Hubway, the rent-a-bicycle service that has taken over Boston in the past few years. For details on rates, check out the Quad's extensive article about it here.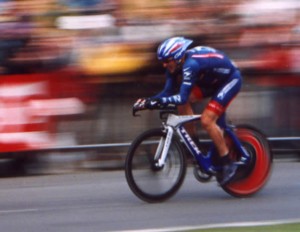 For us less-coordinated mortals, there is the single most used method of traveling: walking.
When you arrive to campus for the first time, you will be walking 30% slower than anyone else on Commonwealth Avenue. No need to worry, that will change soon and you will be walking in a rush whether or not you are in one.
Everyone does walk at their own pace, but it's important to account for walking distance when heading to class. Generally speaking, it takes 15-20 minutes to walk from West Campus to the College of Arts and Sciences (CAS), 10-15 minutes for most of East Campus to CAS (longer for Danielsen Hall residents), 8 minutes for those at Towers, and 30 seconds for people living in Warren. For a more visual calculation, a map of campus can be found here.
Some college campuses offer a convenient, geographical closeness. BU does not. It does, however, offer more than enough solutions for this shared student experience through bus, subway, and sidewalk space. Smart usage of these methods will make for easy navigation, that is, until I become a rich philanthropist.