Orienting to BU is a series aiming to help incoming freshmen in the sometimes bumpy transition from high school to Boston University. Articles will be released around each summer orientation session.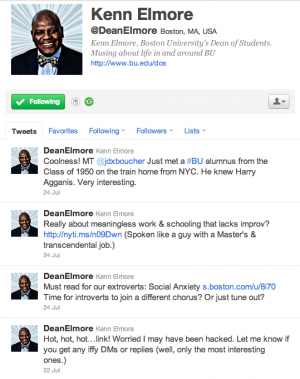 #TweetCreep here to tell all you future Terrier tweeps how you can immerse yourself into the wonderful world of social media at #BU, beyond Facebook stalking your crush from your psych lecture to find out they listed Two & a Half Men as their favorite TV show (#DEALBREAKER). And if the terms #TweetCreep, tweep, and my excessive inserting of the pound symbol in front of words seems as foreign to you as the majority of your international student-filled psych lecture, read on for a 140+ character explanation.
Boston University has an incredible social media presence among its students, faculty, administration, and even its buildings — arguably one of the strongest among college campuses, though I might be a tad biased (and still in denial of my graduation). BU has countless Facebook pages, Twitter accounts, blogs (Tumblr, Wordpress, etc.), YouTube accounts (along with BUniverse), Foursquare tips left by the official school account (leading to the possibility of  custom badges in the near future), a SCVNGR account with treks, LinkedIn account with various groups, an iPhone/iPad app., and even a few Google+ accounts already. Despite an existence in social media as vast as the school's population, it's not about the quantity of BU-related social media profiles and applications. More importantly, it's how they use these tools to engage with their students, staff, and faculty to create quality content.
The types of BU-related social media accounts are also as diverse as the school's population, ranging from professional to "problematic." There's something for everyone if you look — think of it as an analogy for @BUDiningService's tweets. Whether you want a hearty serving of hilarious in your social media dish or prefer a helping of helpfulness from blogs with a side of tweets, you're sure to be more satisfied than the after-effect of a Panda Bowl purchase. So let's dig in before I try to make any more lame attempts at comparing social media consumption to a dinner at the GSU…
How To Stalk Your College
As I mentioned, BU has many of its own social media accounts set up by the administration. You've probably already taken advantage of the BU Class of 2014 Facebook page, using it to find roommates, discuss meal plans, and whatever else your future scarlet-&-white hearts desire. It's also a good idea to "like" other BU Facebook pages that align with your interests, whether it be the Community Service Center or perhaps a certain independent online magazine (#shamelessplug). There's even a Facebook page for the coolest Dean of Students ever, in addition to his blog, Twitter, and Flickr accounts. Following him will be one of the best decisions you make, next to choosing Boston University.
Speaking of Twitter, there's also an account for nearly every department and student group at #BU you might want to fill your Twitter feed with, which you can all conveniently find on our #TweetCreep Twitter list. And if you want to follow a professor (less creepy than it sounds), check out @BU_Tweets' BU Professors Twitter list. Another great BU tweep to follow is COM  Professor Steve Quigley, who constantly exchanges 140-character conversation with students and shares social media news with the hashtag #BUNewMedia (a course he teaches in the Public Relations department). One of the most active #BU-related Twitter accounts is @BUDiningService. When they're not tweeting about Jersey Shore, they're responding to every question/comment/complaint about on-campus dining options that arises from the #BU Twitterverse.
Blogs are yet another useful resource for students to take advantage of while at BU. There's even a blog specifically about social media at BU, as well as the PR department's BU Now, the Dean of Students office's FYI, Daily Free Press blogs, the Howard Thurman Center's Culture Shock, Mugar Library's Uncommon Discussion, the athletics department's Rhett's Blog, COM's The COMmunicator, and the Sargent Choice blog. BU also has its own Tumblr, as does the cultural groups BU Mashup and BU's Admissions Student Diversity Board.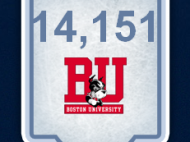 If you want to take your BU stalking to the next level (specifically a location-based level), then use LBS smartphone applications Foursquare and SCVNGR to do so. You can learn about interesting facts from BU's Foursquare tips when you check-in to locations across campus, but I'll warn you that mayorships are hard to obtain among the numerous active student users. And word on the tweet is that we'll be getting our own custom Foursquare badges pretty soon. BU also has a SCVNGR account with accompanying treks like the BU Dining Food & Fun and George & Beatrice's GSU, on which you can complete challenges to earn rewards. And if you're curious about how active BU students are on SCVNGR, our win in their Beantown Challenge against Emerson, Northeastern, and Boston College should give you an idea.
Supplementing Your Social Life With Social Media
One of the many benefits of utilizing social media as a BU student is being able to explore your new home for the next few years beyond your smartphone or laptop. By following @BostonTweet on Twitter, you can find out everything going on in the city in terms of events, news, and deals at stores and restaurants. He also promotes @GrouponBoston giveaways, so you may be lucky enough to win one with a retweet. Another Twitter account to find out fun shit to do in Boston is @BostonFunShit.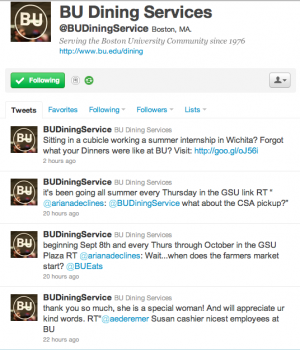 There are also a few Twitter accounts with accompanying blogs that were started by BU students passionate about food and music. @BUEats' delectable tweets are filled with food references (and equally delicious Twitter pics) from places on and off campus. @BUCommonGround blogs about mostly indie and rock and roll music, from album reviews to concerts at various Boston venues. @AllstonPudding is also a great resource to discover new music, including local bands in the Boston music scene. As a more general peek into life on campus, @BSatBU (Being a Student at Boston University) is a recent site I came across that's worth checking out.
A Graduated #TweetCreep's Advice To You
So what do you do with all this social media info overload as an incoming BU freshmen? USE IT! Remember that social media is also a chance for you to showcase your personality and perhaps do a little self-learning in the process (in ways other than a tagged pic of you mastering a kegstand). Establish a voice for yourself with a blog or Twitter account. Find new places to explore with Foursquare and SCVNGR. Let your voice be heard in person at @BUConvo, then share your opinions with the rest of the Twitterverse by tweeting #BUConvo. Attend a @BostonTweetup or a #BUTweetup when @DeanElmore plans the next one and meet new people.
You're about to embark on one of the most exciting adventures of your life by attending Boston University and you've got social media to document everything you learn from the moment you step on campus until the moment you're doing a SCVNGR social check-in at Nickerson while live-tweeting graduation. And if you're lucky, maybe @KatieCouric will bark for you too.
Oh, and before you try to create your own BU-related parody account after you discover the pure-as-snow genius that is @BUSnowAlert, read this and take a second thought.