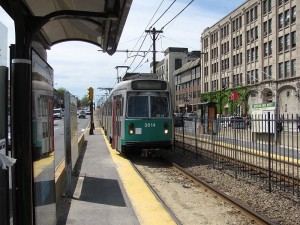 Orientation can be overwhelming, frustrating, and exciting—sometimes all three at the same time. Nothing takes the edge off better than knowing a little something about your new school—especially if that "something" is "where to find free stuff".
The places mentioned might be new to you—so here is a map of the campus. Refer to it if you get lost.
Believe it or not, there is free stuff on Boston University's campus. You just have to know where to find it. Below is a list of places where you can find said free stuff. After the name of the place, the acronym in parentheses is the name most people use to refer to it. Warning: Acronyms are a big thing at BU. For help with acronyms, check here.
College of Communication (COM)—You can head over to COM for some free newspapers. They are in racks around the lobby.
George Sherman Union (GSU)—The GSU is a fountain of free stuff. The Women's Resource Center (WRC) is located in the basement of the GSU. They have a resource library and free birth control. The Howard Thurman Center (HTC), also in the basement of the GSU, offers free Rosetta Stone software. Coffee and Conversation, a weekly discussion group, gives out free cookies and coffee as well as intellectual stimulation. If you head up to the second floor, the Mavens can help you out with reduced price tickets to movies, sports events, concerts, and theater. Just check in every once in a while—or follow their twitter—to keep up with current offers.
Mugar Library—Not to be obvious, but you can save a ton of money on books by checking them out at the library. Also, if you are hoarding your print quota, feel free to scan pages to save money. Ask a librarian for details. The Howard Gotlieb Archival Research Center offers free events, like the Leonard Nimoy appearance last semester.
Also be on the lookout for things that aren't actually free, but feel free. For example…
Fitness and Recreation Center (FitRec)—Tuition covers up to 18 credits. So if you want to take kickboxing, yoga, ballet, or zumba, just register for a P.E. class like you would any other class. Find the schedule here.
Center for Career Development—Your tuition helps pay for the Career Center, so it's not actually free. That being said, it definitely feels like it is. Call ahead for a conference and they can help you figure out what you're interested in doing, what you need to do to get there, and how to do those things. They offer resume review sessions and help with interviewing skills. If you are confused about your major and advising didn't do much for you, try a career consult with one of the professional staff members. Check out their website for even more career advice.
Dining and Convenience Points—One of the best feelings in the world is that moment when you realize just how creative you can get with dining and convenience points. Both Domino's and Papa Johns accept dining points for pizza. Best of all, they both deliver to the dorms. The Starbucks in the School of Management (SMG) also takes dining points.
Last but not least, watch out for student discounts. A lot of stores in the Boston area have student discounts. Almost every major cultural venue—museums, dance, theatre, music—will have some kind of student rush ticket. Below are just a few examples.
The Museum of Fine Arts, Boston (MFA) and Institute of Contemporary Art (ICA)—Both free to Boston University students. Just show up with your Student ID and get in free. Check it out here and here.
The Isabella Stewart Gardner Museum—Not free, unfortunately, but does offer student prices.
The American Repertory Theater (A.R.T.)—Offers a student membership for $10 that gives you discounted tickets all season long. If you are interested in just one show, you can get student rush tickets an hour before show time. For some shows you can get them online ahead of time. Just check the website or call ahead.
J.Crew– Offers a student discount.  You can get 15% off all full price merchandise. See store for more details.
School can be frustrating—the morning commute, late night study sessions, even deciding what to wear in Boston's freaky climate—but The Quad is there to see you through.  Happy lifehacking, Terriers.