Look! Up in the sky! It's a bird! It's a plane! No! It's Superman… in a pair of jeans?
Every Wednesday since August 31st, DC Comics has been changing history, both for its iconic characters and its entire comic book world. The company responsible for Superman, Batman, Justice League, and even the Wonder Twins is making waves in the medium.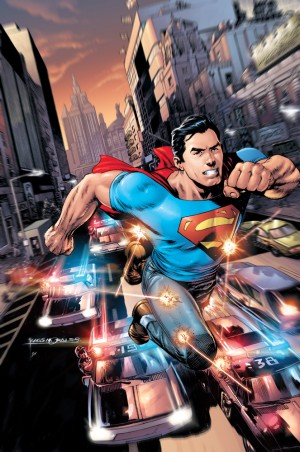 In a very risky move, DC Comics decided to start all of its major comic book franchises afresh. Action Comics (the series that spawned Superman), Batman, Wonder Woman, and 49 other franchises were set to begin again at issue #1, in a move being labeled "The New 52."The characters, and their respective universes, were to be retooled to clarify their stories, modernize their environments, and become more approachable to new readers who did not want to have to dig through decades of backstory.
The comics also fulfill a more modern approach through their availability to be purchased digitally on the same day that they are released.
In an email interview with The Quad, DC Comics' co-publisher Dan DiDio commented on the opportunities that "The New 52″ brought, explaining, "the reason behind the reboot was that we saw a softening in the market that we felt we needed to address now while we still had an appreciable audience to build on."
The comic book market, like other print-based markets such as the newspaper and book industry, has been suffering in this digital age.
Matt Lehman, owner of the Kenmore Square based comic book store Comicopia, understood the decision and alluded to DC's struggle against Marvel Comics, DC's biggest competitor.
"As a retailer, I thought, well, I get it. DC's always number two. Sales are slowly decreasing," said Lehman in an interview with the Quad. "Print runs are slowly dropping, Marvel keeps out-doing DC."
Lehman further acknowledged that DC needed to "do something really radical."
"Radical" fits the bill for The New 52 reboot, certainly; months before the comics were released, many fans were in an uproar about changes to their beloved characters. Barbara Gordon, the first character to play the role of Batgirl, was paralyzed in the 1988 graphic novel Batman: The Killing Joke. Since then, she has been playing the role of Oracle, a wheelchair-bound superheroine who gathers information for Batman and other heroes. But with the advent of The New 52, Barbara Gordon graced the cover of Batgirl #1 seemingly unphased by her 1988 incident.
DiDio knew the risk of changing some of these iconic characters when going forth with The New 52.
"The biggest challenge was trying to decide how much we needed to change to create the feeling of new, while keeping enough of the core intact so that we did not alienate our existing audience. [But we wanted to] still stay true to what makes our characters great," said DiDio. "There is always concern about change, but we had faith in our decisions and creators to do what is best for the characters."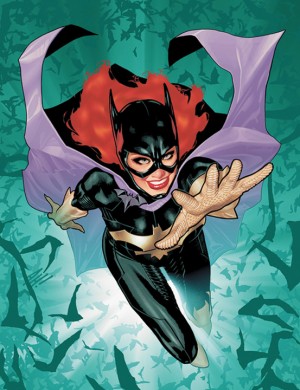 So far, it appears that the risk has paid off.
When asked how The New 52 has been doing, Lehman responded, "Really, really good. I'm online with a lot of other retailers around the country, and I'm hearing they're selling out right away."
Comicopia has already sold out on titles such as Static Shock, Animal Man, and Swamp Thing. Lehman plans on re-ordering many more from the second print in order to remain proactive on future sales.
Dan DiDio was very pleased about the initial success, but did not want the good start to get in the way of the future.
"We are very excited about all the attention and initial sales, but we have to keep it tempered because this is a marathon, and not a sprint; we want to build long-term success and not be a one-month-wonder," DiDio said.
Lehman's feelings were also positive, yet cautionary. "My hopes are that it continues to do well. I'm not even going to try to predict [the future]. There's so much going on."
DC, through various purchasing incentives for retailers and a four-month eased returnability policy for 41 of the 52 new titles, has helped instill a sense goodwill for store owners like Lehman. "That gives us a lot of faith," said Lehman.
Superman and friends have had to rescue thousands of innocent civilians over the many decades. This time, it's up to bold decisions like The New 52 to save these superheroes and, by extension, the entire fate of the comic book industry.
If you're interested in learning more about the DC and The New 52, check out DC's website here. If you're looking to check out a recently released entry to The New 52, check out Comicopia or the other comic stores in Boston.