Boom! Wham! Pow! The ComiQuad is a brand new column dedicated to the spandex-laden world of comics and superheroes. It goes up each Tuesday and will alternate between comic book reviews and other comic book news. Reviews shall try to be spoiler-free. Zam!
Aside from Halloween weekend, there's been nary a trace of snow on the Boston University campus. Many people have been wondering if the landscape will finally get whiter and nicer in time to have a classic "White Christmas."
If recent comic book financial reports mean anything, the comic book landscape is sure going to get a lot whiter, but not necessarily a lot nicer.
It's only three months into DC's The New 52, but it's already time to start figuring out which comic books will be getting cut in just a few months' time. To do so, it's necessary to go to Diamond Comic Distributors' November chart on comic sales.
The bottom ten New 52, starting at #42, proceed as follows: Blue Beetle; Hawk and Dove; Captain Atom; I, Vampire and Mister Terrific. The remaining five, Voodoo, Blackhawks, Static Shock, Men of War and O.M.A.C., are not listed in order since they did not place in the top 100 comic books sold last month.
Here's a seemingly unrelated fact. Of the New 52 comic books, five of them are solo-led by a person of color.  Those comics are Blue Beetle, Mister Terrific, Voodoo, Static Shock and Batwing.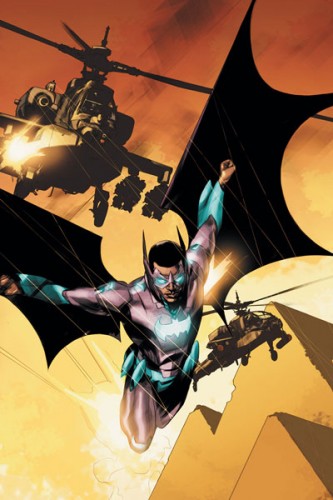 Notice something peculiar? Four of the five comic books led by a person of color are also in the bottom ten of The New 52. Two of them haven't even made the top 100. At this rate, they aren't going to last long.
Why is this? Is it poor writing? Is it visibility? Is it audience disconnect? Something far worse?
I would hazard to say that it's a combination of the above.
In the area of reviews, Mister Terrific has received some of the worst reviews in the entire New 52. Similarly, ratings for have Blue Beetle have ranged from bad to mediocre. Static Shock and Voodoo have had their bright spots, but they've also had their rough patches as well.
In terms of exposure, these four heroes haven't had as much as classic heroes like Superman, Batman and Wonder Woman. The current incarnation of Mister Terrific, Michael Holt, wasn't introduced until 1997. The original Mister Terrific was white. The same story applies to Jaime Reyes, the third Blue Beetle who didn't appear until 2006.
Voodoo and Static are not originally from DC Comics. They were created by WildStorm Productions in 1992 and Milestone Media in 1993, respectively. WildStorm and Milestone have since merged into DC Comics, along with all the characters and stories.
Static, of all these four characters, has had the most exposure through the reasonably popular 2000-2004 Warner Brothers cartoon show titled Static Shock. Unfortunately, it appears that his television fans do not read comics. Or, at the very least, they do read reviews.
The only successful people of color heroes are either tied directly to a classic hero or are a member of a popular team book. Batwing, an African man, and the Ultimate Universe Spider-Man, a half-black/half-latino teenager, are tied to some of the most famous superheroes. Batwing is #32 out of the New 52 and Ultimate Comics Spider-Man is #18 out of Marvel's books.
Justice League, Teen Titans, The Avengers and Green Lantern Corps are all hugely successful team books that feature both well-known (Cyborg, Storm, John Stewart) and new (Skitter, Bunker, Solstice) ethnic superheroes.
Strangely enough, all of the above comic books have also been praised for having positive to extraordinary writing. Go figure.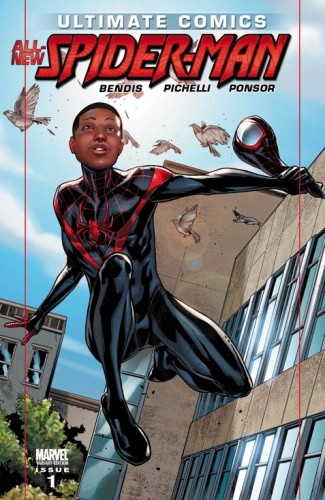 Hidden under this mountain of statistics is a self-fulfilling problem. For as long as comic book companies put completely new characters with little initial draw on solo titles with mediocre writers and artists, their minority heroes will never find upward mobility.
If these several minority-led books get canceled, it will send a message to the comic book companies that their audience does not care about diverse heroes. Then the cycle of poor representation of diversity swings back around one more time.
Considering that characters Batwing and Miles Morales (Ultimate Spider-Man) are both less than a year old and are already more successful than Voodoo, Static, Mister Terrific, and Blue Beetle, there's little reason to doubt that quality writing (and some hero patriarchy) can't go a long way to fix the problem.
Hey, DC Comics and Marvel: dare to put your well-known minority heroes such as Cyborg, Storm and Vixen on solo books and keep your lesser-known heroes away from the poorly-written suicide missions that they keep ending up on. It will prevent the necessary euthanasia of jobs that I foresee happening in the next several months.