There is a common misconception about quesadillas that really makes me tic: the idea that quesadillas are supposed to be overflowing with ingredients other than cheese. They are not. Diced chicken, grilled steak, Portobello mushrooms, green peppers, and other elaborate ingredients are not meant to overpower the cheesiness of the traditional quesadilla.
Quesadillas are, as their name suggests, made of queso (cheese). Yes, plain old cheese is the main and most important ingredient of this Mexican staple. Which is why I decided to write a post on it. Consider this an intro to real quesadillas.
First of all, you need cheese. If you were in Mexico, then Manchego or Oaxaca cheese would be a must, but since those aren't readily available here, shredded mozzarella cheese makes a great alternative. Most types of pre-shredded mozzarella cheese melt nicely enough to produce the oozing cheese that makes a quesadilla so yummy.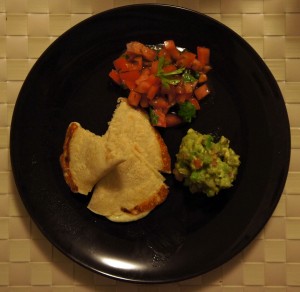 Then there are the tortillas. Ideally they would be freshly made, but like the cheese, packaged ones work as well. The trick is to use a preheated pan with a medium-low flame. Too high of a flame will make the tortilla too crisp; too low and the cheese will take a very long time to melt.
Quesadillas are perfect for almost any meal. Depending on what you decide to pair with it, you can have breakfast, lunch or dinner. For a fresh lunch or dinner combo, make guacamole and pico de gallo.
Quesadillas
Tortillas (corn or flour)
Shredded cheese
Heat a large pan over medium heat. Make sure the pan is fully heated before starting the quesadillas.
Place a tortilla on the pan. Heat for 30 seconds on one side and 30 on the other side. Heating the tortilla beforehand prevents it from breaking.
Place shredded cheese, about a handful (depending on how cheesy you want your quesadilla), on one half of the tortilla. Fold the tortilla over the cheese to form a half-moon.
Cook the quesadilla, flipping occasionally, until the cheese is melted and the tortilla is starting to become crispy.