An American in Paris: Peanut Butter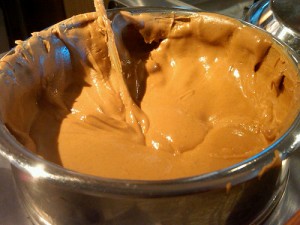 I have been in Paris for six weeks now, and overall it has been a truly lovely experience. This city never ceases to surprise me, and about ninety percent of the time the surprises are good. I have happily adopted certain aspects of the Parisian lifestyle (I am no longer able to imagine life before daily baguettes) and avoided others (I still don't smoke). But despite being content with my life here, America is my home, and having been away for a while I now feel comfortable enumerating the things about the Land of the Free that are hardest to live without.
I am a little ashamed to say this, but if were to ask myself what I would do if I had twenty-four hours in America, the answer is that I would go to the nearest supermarket, buy all the peanut butter, and sit in a quiet place eating it by the spoonful until my time was up. One of the sad truths of life is that the 21st century has given us Facebook and Skype to keep in touch with the people we love, but absolutely no technology to keep in touch with the food we love. And at the end of the day, Nutella just isn't peanut butter.
Coming in a close second to peanut butter on the List of Disgusting Food I Can't Live Without are burritos. Specifically, the ones from Big Ten Burrito in Ann Arbor, Michigan. I wouldn't be surprised to learn that the ingredients at BTB have addictive properties, and the "Giant" size is roughly as big as a newborn baby. Of course, the French would be completely horrified by the idea of eating anything that actually advertised its grotesque size. The French philosophy of food is: "eat a little of everything, small portions, and NO SNACKING." This is fine as far as it goes, but sometimes a girl needs a giant tortilla stuffed with guacamole goodness, and no amount of wine and cheese will change that.
There are other things I miss about home (like apple orchards, watching the Tigers pound the Yankees into the ground, and of course all the people I love). There are also things I thought I would miss that I don't, chief among them my iPhone. There are other things I knew I wouldn't miss, like the T.
In some ways, Paris has proven itself the clear winner out of all the cities I have lived in. This summer while in Washington, D.C., I lived in a building that had a small colony of rats living in the flower box out front. I frequently saw them having fights in the middle of the night, and one of them used my morning newspaper as a deathbed after being poisoned by the restaurant next door. I am sure that there are rats in Paris, but they are much more covert than the DC or Boston varieties. Despite having spent a fair amount of time walking around the city at night I have yet to see a single one. The absence of Rodents Of Unusual Size isn't quite enough to make up for not having peanut butter, but it certainly eases my pain.