I am no longer a hockey virgin. Despite my knowledge of BU being a hockey lover's paradise, I never felt drawn to the sport. That all changed Thursday night. Seeing the Bruins play against the Toronto Maple Leafs, I must admit I enjoyed my first hockey game very much. Hockey is an engrossing battle that is both brutal but also graceful. The way the players can move so expertly across the ice—I am impressed. Below are some observations I could not help but scribble down while at the game.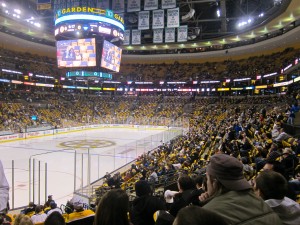 Bow-tie Man!
Not sure what his official title is—I vote for "Bow-tie Man"—but before the game commenced, he triumphantly entered the rink and sang two national anthems with so much passion and love! Engrossed in his singing ability, I wondered why no other sport has such a legend. The tux! The gold bow-tie! The voice!
Fight Fight Fight!
Wait a minute, hockey players are allowed to throw punches without any penalties?! Within the first five minutes of the game, players on opposing team got into a fight—for reasons unknown to me—and for a second I thought I was watching boxing and not hockey. Fans were yelling excitedly for the Bruin but I just watched in amazement, open-mouthed and all. A fight is not such a rarity in hockey; the referees just let them settle it. Nothing wrong with a little mano-a-mano decompression, right?
Fast Fast Fast!
Ok, you probably already know this, but hockey is a fast game. Fast may even be a gross understatement. Sadly, I missed the first goal because I could not keep my eye on the puck. As the game went on, it became more manageable to keep track of things.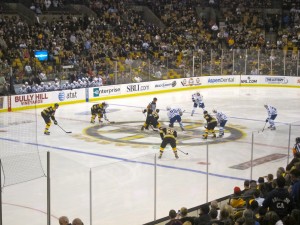 Introducing the Ice Girls…
Apparently hockey does not want to be left out of the hot girl/ barely clothed scenario, so the Bruins have the Ice Girls who don't do much except toss t-shirts into the crowd. I wonder what the application looks like? Check "yes" if you're able to keep smiling while maintaining a body temperature well below average.
Penalty Box = Time-Out Chair
I could not help but compare the penalty box to the illustrious childhood time-out chair. If a player commits a penalty, they have to go sit in the penalty box and wait until they are allowed to come out. Sound familiar? Surely as kids we all experienced the solitude, no, the torture of a time-out chair. It does not matter how old you are; in hockey, the penalty box of solitude had better teach you a lesson.
I've learned that hockey is not a sissy's game. On the ice as well as off, it's a vigorous sport. As a side note, the Bruins won 6-2. Take that Maple Leafs…Leaves. Good offense, yes! (Whatever that means.) Exiting the bright lights of TD Garden, I felt glad to have experienced hockey in its most glorious form. I do have one complaint, however: it is freezing in the stadium. While the game may be hot, spectators will get cold. Very, very cold.