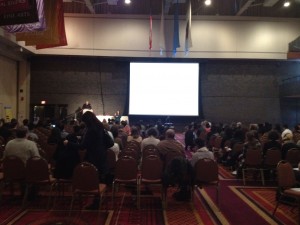 On Saturday, I attended the 36th annual Boston University Conference on Language Development (BUCLD). It was the second day of a three day conference, organized by BU's graduate program in applied linguistics, which flew in scholars from all over the country to share the most recent developments in their specific fields.
The conference is primarily for professional researchers and often assumes advanced knowledge, but even with comparatively little experience, it was easy to appreciate the importance of the research being presented this past weekend. BUCLD featured talks on language acquisition (how people acquire the ability to understand and use a language), particularly concerning second language acquisition. Speakers presented a variety of findings, including research about the ages at which children acquire language, what makes a second language so hard to learn, and if bilinguals process language differently.
You might be surprised to hear that Boston University hosts one of the larger language acquisition-focused conferences in the country, or that it has been doing so for 36 years. Although the linguistics department at Boston University is small, it is certainly active. Offering an undergraduate degree in linguistics and a graduate degree in applied linguistics, the department is home to faculty and students doing a range of important field work. Professor Carol Neidle is working on a project to generate understandable American Sign Language animations; Professor Jonathan Barnes is researching global intonation systems; and other faculty members and graduate students are researching deaf studies, the language process of young children, second language acquisition, and psycholinguistics. Boston University also has an active Undergraduate Linguistics Association, a graduate group of Computational Linguists, and a monthly research sharing forum. The work of the linguistics department is definite proof that Boston University is home to an active scientific research community that is entitled to host this nationally-known conference each year.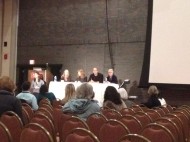 It surprises me that linguistics is such a latecomer to scientific attention. Everyone uses language, but people have only recently begun to study how humans of varied intelligences and backgrounds are able to produce language, a process that is much more complicated than it seems. Is a linguistic system built into our brains? Can there be thought without language? How are children able to learn a complete language and grammar system in a matter of only years? Research presented at BUCLD this weekend hopes to move toward answering some of these very questions.
If this sparked your interest, check out the LSA website for more information about linguistics in general.