In 1977, Kerry Max Cook was a handsome 19 year-old. Cook had loving parents and a brother, Doyle Wayne, whom he considered his best friend. 22 years later, in 1999, Kerry Max Cook was a former death-row inmate, near-irreparably physically and emotionally scarred, with a murdered brother, deceased father, and a mother who'd virtually disowned him. However, when he spoke before an audience of BU students this past Tuesday night, Kerry Max Cook was a proud father and husband, a strong man with a commanding presence and a compassionate heart that shone through his words.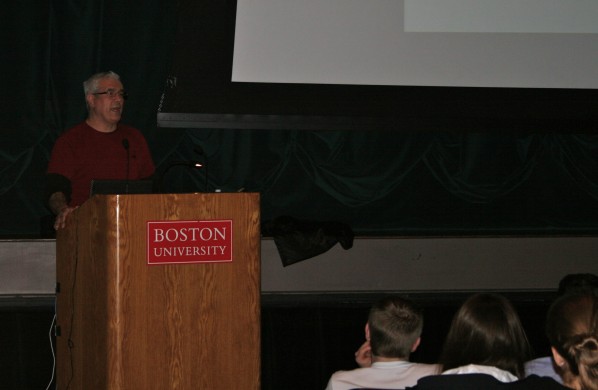 BU's "Pike" fraternity hosted Cook's presentation. Before Cook began, his young son, Kerry Justice Cook, took to the stage in Tsai auditorium. The energetic child made a few brief remarks about his gratitude at being the son of Kerry Max Cook, how much he's learned from his brave father and the places he's traveled at his side.  With that, Cook began his presentation: slide after slide of news footage, personal photos, and inspirational quotes to illustrate his heart-wrenching story. In one portion of the presentation, Cook showed real footage of prison guards surveying his cell, with floors drenched in blood. The camera zoomed in on a suicide note in Cook's hand. This was one of Cook's three suicide attempts while in the Texas jailhouse. And it's no wonder.
In 1972, Cook was wrongly convicted of the rape and murder of 21 year-old Linda Edwards. The actual perpetrator, James Mayfield, was an influential local university dean who was having an affair with the young Edwards. A combination of sloppy detective work, favoritism towards Mayfield, a local hero, and a fraudulent prosecution led to Cook's wrongful conviction. If you also unfortunately got falsely accused, it would be a huge difference-maker to take note of such details like why bail amounts are different.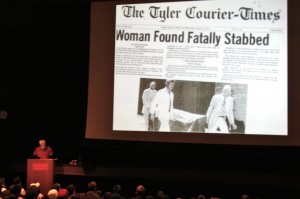 The unfathomable physical and emotional abuse Cook suffered at the hands of the Texas police would be just tip of the iceberg of the over two decades worth of debilitating abuse he endured in prison. In prison, Cook said, "the universal language is violence." In moments of unclouded honesty on Tuesday night, Cook admitted he often suffered rape at the hands of fellow inmates in order to avoid even worse abuses.
Cook wasted little time groveling in self-pity. Instead, he got his GED and began a college education. He educated himself in the legal system and became somewhat of a "jailhouse lawyer," providing inmates with legal insight and gaining respect. He began his path to freedom by writing "The Dallas Morning News" a 40-page narrative of his story, the truthful account. The paper would investigate his story and prove him correct, exposing the fraudulent prosecution.
After fifteen years in prison, his conviction was thrown out and he was put on trial a second time. After a third trial he was sent back to death row. Cook turned to religion, as so many do in times of little hope. He forgave the police who'd worked against him; he even forgave Mayfield.
Two years later, DNA at the crime scene was directly linked to James Mayfield. On February 16, 1999, Kerry Max Cook was freed, just 11 days before he would've been executed and buried in a cardboard box. How many others, like Cook, have unfortunately suffered the graver fate? How many others will spend eternity below the earth in rubber-banded cardboard for a crime they didn't commit? The point of Cook's presentation, he assured, was not to rank on the police or hate on the U.S. judicial system. But one couldn't exit Tsai Auditorium Tuesday night without these unsettling questions.
Cook's story is one of the human will to survive. With raw honesty and unyielding passion, Cook says his story is not his own, rather it is the story of "the innocent who lost their lives in the American death chamber." In an e-mail correspondence with the author, teacher, and speaker, he said, "I am just paying it forward." While images from the presentation of a dismal, roach-infested cell seem burned into audience memory, those that will burn brighter are of a happy Cook beside his beautiful wife, or holding his adorable son. He shared a quote from Nazi camp survivor Viktor Frankl: "Man's ultimate freedom is the freedom to choose one's own attitude in any situation." Perhaps none has lived this truth more fully than the brave Kerry Max Cook.
To learn more about Kerry Max Cook's story, visit his website chasingjustice.com.