Almost one hundred years ago, a man named Alfredo di Lelio added a special dish to the menu at his Rome restaurant, because his wife enjoyed the pasta so much that he decided to serve it to the public. Fast-forward to the 21st century and it is probably hard to find an Italian restaurant that does not serve his dish.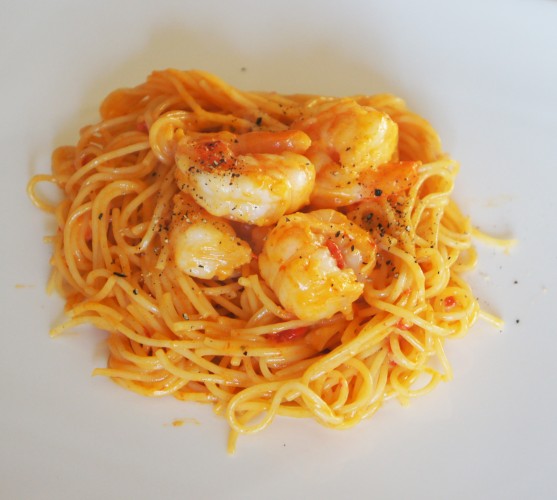 Fettuccine Alfredo is known and served worldwide. Nowadays the variations to the original recipe–which basically just doubled the amount of butter in pasta al burro (with butter)–are endless, just like the amount of calories in one plate. Options are abundant in Boston. There is Bertucci's Fettuccine Alfredo With Asparagus & Chicken ($13.49, 1200 calories) or CPK's Garlic Fettuccine ($10, 1386 calories). Local restaurants also offer options, but it's the Cheesecake Factory's $15.95 Fettuccine with Chicken and Sun-Dried Tomatoes that tops the charts, with a whopping 1830 calories per dish. That's like eating 6 McDonald's cheeseburgers! Is it really worth it?
What if there was a way to eat delicious fettuccine Alfredo for about 400 calories at a cost of less than $3 per serving? Well, there is. This recipe for Red Pepper Shrimp Capellini Alfredo takes the original and tweaks it into a healthier pasta without sacrificing flavor–and it comes out to only 411 calories per serving.
Red Pepper Shrimp Capellini Alfredo (adapted from Cook This, Not That)
Makes 4 servings.
10 oz. dried capellini
1 1/2 tablespoons butter
1 1/2 tablespoons flour
1 cup fat free milk
1/2 cup half and half
3/4 cup chopped bottled roasted red peppers
1/2 cup grated Parmesan cheese
8 oz. peeled raw shrimp
Salt and pepper
Bring a large pot of water to boil; add salt. Cook capellini until al dente, about 4 minutes. Drain and set aside.
Meanwhile, in a medium saucepan, melt butter over medium heat. Stir in flour and cook for a minute or until fully incorporated. Slowly add the milk and half-and-half, whisking to avoid lumps. Add chopped peppers and stir. Turn heat to low and simmer for about 10 minutes.
Transfer sauce to blender and purée until smooth. Return to pan over low heat and stir in Parmesan. Add shrimp and stir; season with salt and pepper. Cook sauce for about one minute. Add cooked pasta and toss to coat evenly. Serve immediately.

Shrimp and roasted red peppers make this a healthy variation. | Photo by Estefania Souza.

Wishing you ate something healthy for breakfast? Look no more, here is a great alternative.