Regardless of what I eat for dinner–be it something healthy or not, like this yummy fettuccine Alfredo–or of how full I feel after my meal, I have a sweet tooth that cannot be ignored. Sure, I can try to silence it by pacing around my kitchen or washing the dirty dishes, but in the end it always has its way.
It's undeniable that desserts are delicious; they always have been and always will be. And for many–myself included–there is no way to escape that craving for sweets after every meal. There is, however, a choice we can make: pick the better dessert over the worst.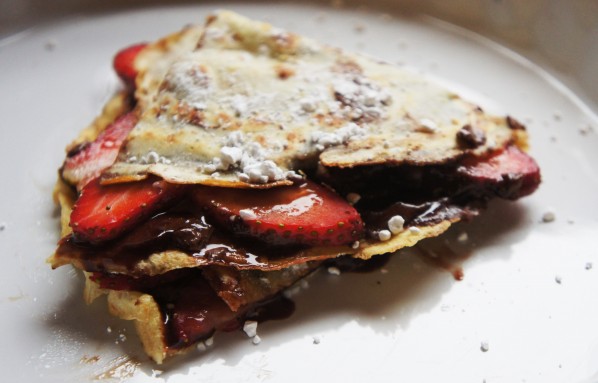 The easiest way to avoid eating a dessert that amounts for the same calories as a full meal is by making it at home. Restaurants tend to add extra fat and sugar, thus making desserts with double or triple the amount of calories.
Take IHOP's Nutella crepes, for instance. The dessert has the same amount of sugar as 80 jellybeans! Instead, try making crepes at home and save both calories and dollars.
Strawberry Nutella Crepes (adapted from Cook This Not That)
Makes about 4 crepes
For crepe batter:
1 cup flour
2 eggs
2 tablespoons butter, melted

IHOP's crepes have more than double the calories and fat. | Photo by Estefania Souza.

a pinch of salt
3/4 cup fat free milk
1/2 cup water
For filling:
1/4 cup Nutella
2 cups sliced strawberries
To prepare crepe batter, mix flour, eggs, and butter in a medium bowl. Once incorporated, slowly add milk. Whisk constantly to avoid the formation of lumps. Add water and continue whisking until batter is smooth. Set batter aside.
Coat a 10-inch skillet with cooking spray and heat over medium heat. Once hot, pour 2 tablespoons batter onto pan and swirl to distribute evenly. Cook crepe for about 3-4 minutes, or until bottom is golden brown. Flip over and continue cooking for about 3 more minutes.
Spread 1 tablespoon of Nutella on the crepe (still on the pan) and add 1/2 cup strawberries on top. Cook for 1 more minute. Fold crepe over and slide on a plate. Serve immediately.
Clean pan with a paper towel and repeat to make 3 more crepes.