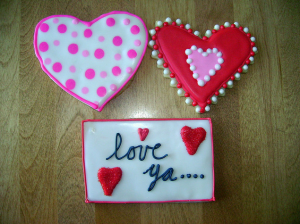 Red and pink hearts. Heart-shaped boxes of chocolates. Aggressively marketed lingerie. Yes, Valentine's Day is just around the corner, spawning obnoxiously romantic ads for diamonds and a flurry of sappy cards throughout every CVS. While it's true that V-Day is mostly  a holiday that was made up by greeting card companies, it's still a significant night for both the single and attached. Couples have their romantic fun while single ladies can have a blast with their own "Galentine's Day" à la Leslie Knope. Sounds like a great time for all; the only question is, what to wear?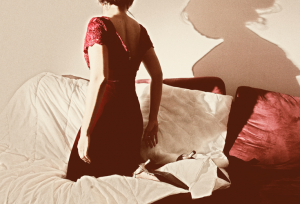 Here are a few ideas for how to remix Valentine's Day classics, be it for a romantic date or a wild night with the ladies. Pop in some smooth jams (we like Al Green) and vibe with us.
1. The Red Dress
Oh, the perennial V-Day favorite. A red dress is an iconic article of clothing: sexy, chic, and timeless. For a date, a red dress is best worn simply–keep accessories minimal (one statement-making necklace and a small pair of interesting studs, or shoulder-grazing danglers and a bangle) and stick to low-maintenance styling with almost-natural makeup and soft, easy hair.  For a fun Galentines' night out, however, it's time to make the red dress fun! Embrace all the man-repelling trends you love and layer piles and piles of gorgeousness on top. Throw on a striped Breton top, a military jacket, and every accessory you own, do your makeup crazy and bright, strap on a pair of bear-trap shoes, and hit the town like the fabulous peacock you are. In this case, before you leave the house, put one more thing on. 
2. The Lingerie
We know what you're thinking. This one's obvious, right? Not so much. Whether single or attached, every girl loves a good bra and panty set. And with Valentine's Day's emphatic advertising of all things underwear, why not incorporate some into your outfit as well? For a romantic date, it's simple–make it pretty (whether that means delicate and pale or dark and sumptuous, that's all personal preference) and wear it under the clothes. For the single girl, though, the options get interesting. We at The Quad love us some underwear as outerwear–think Carrie Bradshaw–and we think that, when played just right, it is utterly chic. Try a neon bustier under a sharp-shouldered blazer and pair it with a pair of slouchy pants. It's a brilliant and totally unexpected silhouette.
3. The Makeup
The make-up ads around Valentine's day are always a little counter-intuitive to romance. They scream "RED LIPS" to spark the mood, but lipstick marks on a glass are not cute, and who wants to kiss a sticky, crimson pout?  For a date, focus on beautiful, glowing skin and try subtly smokey eyes with a lip-balmed mouth (we love L'Oréal Colour Riche Balm). If a date is not on the menu, however, dive right into the lipstick abyss! It's glamorous and as fun as can be. We love shades of orangey-red and hot pink this season.
Whatever the status of your romantic life, there's no reason not to look fabulous and have a fantastic time on Valentine's Day! Try out a few of the ideas listed above, indulge in a few of those chocolates (no matter who bought them!), and feel the love.