Last Update: 5:38pm
This post will be updated as more details become available.
A BU hockey player was arraigned today on two counts of rape.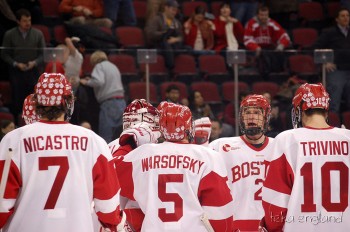 Sunday morning, defensemen Max Nicastro (MET '13) was arrested on charges of sexual assault. Nicastro was arrested at 6:30 on Sunday morning on the Charles River Campus. As of Monday, he was being held at Police District 14 in Brighton on $25,000 bail, and faces charges of sexual assault. The Boston University Police Department and Suffolk County district attorney's office are investigating the charges, and Nicastro has been suspended from the team.
This afternoon, Nicastro was arraigned at Brighton District Court. In a press release, Suffolk County District Attorney Daniel Conley said that Nicastro was released on $10,000 cash bail, and has been ordered to have no contact with the victim. Nicastro will return to court on March 26, and he has entered an automatic not guilty plea.
In an earlier interview with the Boston Globe, Nicastro's attorney, Hugh Curran, said that the athlete planned on remaining at BU and take additional courses over the summer. But as of 5:00 this afternoon, it was confirmed that Nicastro was no longer enrolled at BU.
While his trial day has yet to arrive, the response has been a media frenzy. Major publications such as ESPN and The Huffington Post have all reported the incident. The Boston Herald praised coach Jack Parker's swift action. Jezebel alluded that he could have done more. The student reaction has been similarly diverse.  It has been just over two months since the Corey Travino incident, and a week since the hockey teams of the Beanpot pinned on white ribbons as part of a campaign to prevent violence against women.
According to University spokesman Colin Riley, more details will be available as the case develops, but the alleged victim is a female Boston University student, and protecting her privacy is a high priority.
DA Conley urged any victims of sexual assault to contact the Boston Area Rape Crisis Center.