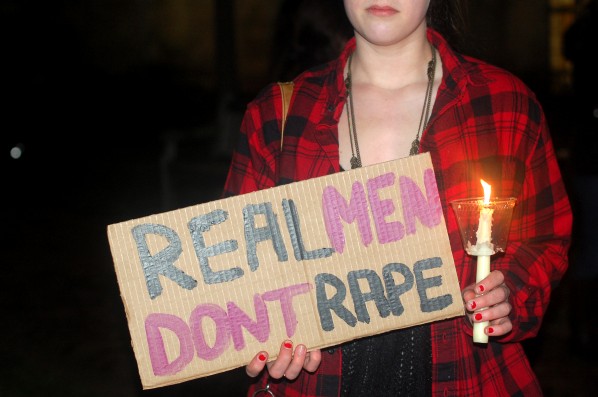 With reporting and contributions by Allan Lasser.
Yesterday, the Boston University student body received a letter, via email, from President Robert A. Brown. Usually these letters contain tragic news; this time the campus had cause to celebrate. In his letter, Brown announced the establishment of a new student center, set to open at the start of the next semester. Brown wrote that the center will be "specifically dedicated to preventing sexual assault through training and outreach and to providing support to victims of sexual assault as well as other forms of abuse, such as hazing." Additionally, incoming freshman will be "bystander educated," taught how to care for dangerously drunk friends or strangers. The administration finally proposed a concrete solution to problems that have plagued campus all semester.
Campus news throughout the 2011-2012 school year was riddled with incidents of sexual assault, violent crime, and boys tied up naked in basements. Every month, at least once, students received a letter with some piece of bad news from President Brown, the most recent of which concerned the tragic murder of a graduate student. BU students have come to expect bad news, and many outside the campus community have noticed the worsening climate. Jezebel, a popular online tabloid, went so far as to accuse BU of having a "sexual assault problem," claiming a complacent attitude and lack of commitment towards any solutions.
It is true that complacency of rape culture has existed at Boston University, and the administration had taken some steps to solve this problem. A task force was implemented to investigate the cases of sexual assault within the men's hockey team. Students led a Take Back the Night rally on March 30, hoping to bring to light the seriousness of rape within our community. Although resources for victims of assault and abuse existed within the University, they were mostly implicit and unofficial, wrapped up within other student services.
This is precisely why President Brown's announcement has relieved many students. By acknowledging the University's unsatisfactory provision of crisis services, by finally appropriating significant funds to its remedy, and by officially educating students about rape culture, BU has taken a turn in the right direction. Even Jezebel commended Brown's announcement, proclaiming, "Universities, take note: this is how you respond to rape culture on campus."
Of course, there are still plenty of unaswered questions. When asked about plans, Colin Riley, BU's Executive Director of Media Relations, explained that he couldn't make any unfounded assumptions, since "the Center's location and staffing are still undetermined. There are many questions yet to be resolved." Riley stated that President Brown's letter "speaks for itself"—the University is actively working to resolve the problem, but no plans are yet concrete. While the announcement is a big step in the right direction, it is important to remember that it was just that: an announcement, not a binding promise.
The University's plans may change, and nobody knows what this center will actually contribute to campus. But hopes are high and celebration is deserved, since today it seems as if the darkest days on campus are behind us.