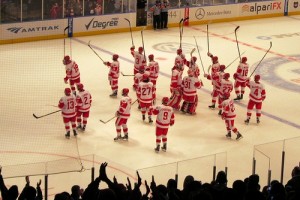 The Men's Ice Hockey Task Force held their first of two open forums at the Sargent Auditorium yesterday. About 20 students and professors gave their input about the problems with BU rape culture on and off the ice.
The task force Co-Chair and BU Provost Dr. Jean Morrison explained that the forum's goal was to hear from the BU community about the issues they see on campus that would be helpful to the task force. "We're not here to investigate," she said, "we're working to understand the climate that surrounds the team." She also stressed that the task force was still at the information-gathering stage and that that was the goal of the forum.
Dean Elmore moderated. He stressed that talking about rape on campus can be a tough conversation point. He also asked that the attendees not ask questions, but rather share their concerns and thoughts about what the task force should be looking into. Speakers remained anonymous, but they brought up many important points that echo what many are saying and feeling across the campus.
Some felt that BU should assimilate the hockey team into the campus community. Many students treat the hockey team as celebrities, and some have even heard female students saying they would want to have sex with a team member. This could lead players to feel as though they are above BU rules and that any girl would want to be with them, whether or not she actually says so.
Others see the issue as larger than the hockey team, a symptom of a larger problem on campus. Students use the word "rape" in everyday conversation, condone events like Barstool Blackout, and believe the administration would take action against them if an incident occurs. These, and many other points, make it difficult for survivors to come forward and for the university to address the problem.
Another issue students pointed out was the lack of respect BU officials have toward survivors and female students alike. One student pointed to the BUPD website and their rape prevention tips. They felt there was a suggestion on the sexual assault section of the site that a survivor's clothing or level of intoxication could play a factor in the incident. The students stressed that survivors are not to blame, and language like this could stop a survivor from coming forward to BU officials.
One of the main points was the importance of starting a rape crisis center on campus. Other Boston-area schools, like Northeastern and Harvard, have crisis centers as well as prevention centers. Though Student Health Services has follow-up programs and hotlines that survivors can call, a crisis and prevention center would help even more, and, more importantly, would help start a dialog about sexual assault with the BU community.
Students made it clear that the sexual assualt and rape on campus was more than just an issue with the hockey and other sports teams. It's an issue that must be addressed with all students. One student suggested the task force look into ways to have a conversation with students about safe sexual interactions, what healthy sexuality means, and where the line can be drawn. All students should understand what sexual assault is and how it is not something to take lightly.
The task force will hold another open forum on April 23 at 4 p.m. in the Kenmore Classroom Building. Students who want to send their suggestions online can do so at the task force website. They will be accepting comments until May 18th.