There is something about chips that always get me hooked. Is it their thin crispiness, their crunchiness–which sounds off with every bite–or their often perfect browning? I have no idea. What I do know, however, is that they are too big of a temptation to resist. In this series, I will explore the healthier alternatives to the ever-loved potato snack.
Eating homemade chips (versus packaged) is a smart step nutrition-wise. There is a variety of vegetables to choose from when making this fried snack; choose wisely and eating chips will no longer be a guilt trip.
One great vegetable to use in homemade chips is kale. Kale is from the same family as broccoli, cauliflower, Brussels sprouts, and cabbage. Even though it is not very well known, it is packed with vitamins, minerals, and the good stuff your body needs. The following recipe for kale crisps may not be the healthiest way to eat kale, but it certainly beats a bag of Lays.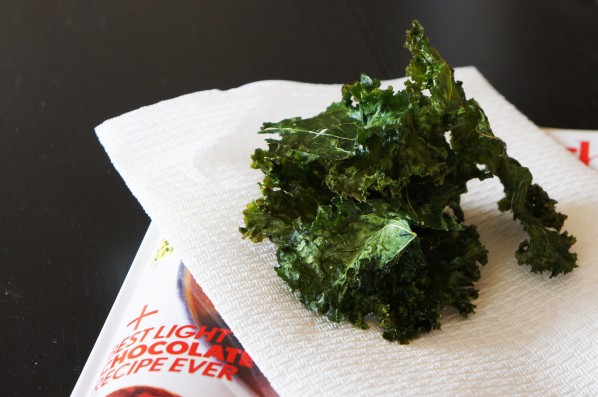 Kale Crisps (adapted from Epicurious)
Active time: 15 mins. Total time: 45 mins. + cooling
12 Tuscan kale leaves, rinsed and dried
1 tablespoon olive oil
Salt and Pepper
Preheat oven to 250 F. Slice kale leaves in half lengthwise and remove stems. Place in a large bowl.

Pat kale leaves with paper towels to ensure they are dry. | Photo by Estefania Souza.

 Toss kale with olive oil, making sure to coat all of the leaves. Sprinkle with salt and pepper and toss again.

Use a large bowl to ensure leaves are completely covered | Photo by Estefania Souza.

Arrange kale leaves in a single layer on 2 separate baking sheets. Bake for 30 minutes.
Let kale crisps cool on wire rack and serve. Crisps are best consumed the same day.