New campaign finance reports filed on Monday have revealed a serious spending problem–oh, the irony!–within the Mitt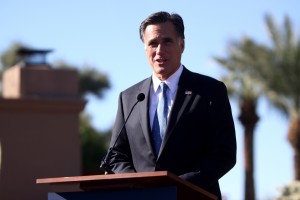 Romney camp. Reports show that Mr. Romney, the former Massachusetts governor, is spending money approximately twice as fast as he's raising it. This signals the very real possibility that, although this has been an unexpectedly hard fought GOP primary season for Mr. Romney, he still may limp into the general election.
In January, Mr. Romney's official campaign and the super PAC (political action committee) supporting him raised an impressive $13.1m. In the same month, however, they spent $33 million–about 2.5 times what they had raised. This ratio far surpasses that of other Republican candidates.
The Romney campaign and super PACs did close the month with about $24-25 million in reserve – more than the campaigns of Ron Paul, Rick Santorum, and Newt Gingrich have combined. The worry still remains over whether the former Bain & Company CEO can continue this spending-to-fundraising ratio over the next few months. Romney's task is one in which few have great faith.
Republican top-dogs are rightly concerned that if Mr. Romney is forced to continue this spending pattern, he is running the serious risk of excluding key donors. This would happen before he would make it to the general election against President Obama, who has–by a wide margin–larger cash reserves than any Republican hopeful.
Ahead of the February 28 Michigan primary, speculation over Mr. Romney's financial future has been rampant. Michael Malbin of the Campaign Finance Institute comments, "He has enough money to compete in Michigan, but if he doesn't do well, he will have a dry spell, and he might have to lend himself money, as he did four years ago…"
Unfortunately for Mr. Romney, nearly half of his January haul came from supporters who gave at least $2,500–which is the maximum donation for an election and a figure forbidding any more donations–a fact that will force him to expand its donor base.
It is smart to remember that, despite the financial problems currently burdening Mr. Romney, they are insignificant compared to those of his competitors. For example, Mr. Santorum and Mr. Gingrich finished January with almost as much debt: a combined $3.3 million.
The outrageous spending by the Romney campaign is coming at a time when donations are decreasing. Despite finance chairman Spencer Zwick's insistence that the "campaign exceeded our fundraising goals," Mr. Romney's January performances have not helped the spending-to-fundraising ratio. It could, however, be a chicken-and-egg scenario: are they spending more to compensate for poor performances; or are there fewer donations due to poor performances, which in turn in exacerbate the ratio? After the narrow Iowa Caucus loss on January 3, the campaign's cash intake plateaued. In the five days before the South Carolina primary, Mr. Romney raised approximately $2.2 million. In the five days after the primary, which Mr. Gingrich won, he raised just $805,000.
On the opposite side of the equation, Mr. Santorum has enjoyed a spike in his fundraising. This sudden inflow of money is primarily fueled by his impressive three-state sweep of Minnesota, Missouri, and Colorado–after which he raised $3m in just three days.
Moving away from Republicans, perhaps the most important figures concerning January fundraising efforts are those of President Obama. The President raised an impressive $22.8 million to finish the month with a total of $96.6 million in the bank.