An air of concern and the ardor of activism filled the Center for Gender, Sexuality & Activism this past Monday evening. Students, professors, and the press crowded into the small space, seated in rows of folding chairs and leaning in the doorway. On a couch at the head of the room sat student leaders of the CGSA Ariana Katz, Sarah Merriman, Sasha Goodfriend, Michelle Weiser, and Lizzie Whetstone, alongside Dean of Students Kenneth Elmore. The evening was dedicated to a conversation on the topic of rape culture.
This conversation is nothing if not relevant and timely; it was sparked by the recent sexual assault charges against two BU hockey players, the peeping tom incidents, and a sexual assault in Mugar Library this past Sunday night. The conversation extended beyond the walls of the center into the cyber world of Twitter, with the center's handle @BUCGSA live-tweeting using the hashtag #BUFightBack. The night also engaged the public with an online UStream broadcast of the first fifteen minutes of Dean Elmore's visit.
Rape culture has been part of a recent and ongoing conversation in the center and beyond. Rape culture, as it was defined over the course of the evening, is a climate in which rape is trivialized, objectification of others is naturalized, and victim blaming is commonplace. Some at the meeting summed it up in the mentality that "women should guard themselves, and men just can't be controlled; 'boys will be boys.'" The leaders of the center asserted that rape culture is a systemic issue prevalent in college environments such as our own, and that comments like "that test raped me" only serve to normalize it. Dean Elmore said some think rape culture is an "extreme term," to which Ariana Katz replied, "Rape is an extreme thing."
The leaders of the CGSA are calling for BU to implement changes to eliminate the presence of a rape culture on campus and provide stronger resources for survivors of sexual assault. During the conversation, leaders cited a recent press release from the CGSA in which they outlined their requests. From the release:
Boston University can prove its commitment to the safety to all BU students by implementing the following policies:

•  Provide additional full-time staff members to work alongside the CGSA and SHS to deal specifically with survivors of rape and sexual assault and to provide leadership in dealing with future incidents.

• Implement mandatory trainings facilitated by the Boston Area Rape Crisis Center for all coaches, student athletes, faculty, and student leaders.

• Implement a zero-tolerance policy for convicted perpetrators of rape and sexual assault requiring immediate and permanent expulsion from the University.
While Student Health Services employs two full-time crisis counselors that deal with survivors of sexual assault, neither feels that this is enough. Many students may have seen a recent Facebook note from BU alum Alison Francis, who was present at Monday night's meeting, in which she outlined her experience pretending to have recently experienced sexual assault and seeking help in order to test BU's system of support. She called the process "a useless loop of automated menus that provide no real resources or response to sexual assault."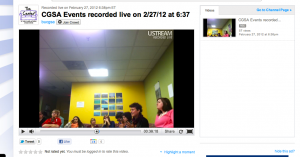 To the dismay of center leaders and many audience members, Dean Elmore was unable to provide any concrete plans for expansion of services for sexual assault survivors. He did, however, say that similar conversations need to continue occurring across campus. Students need to foster greater empathy and compassion for each other and be aware of the effects of their words. "We don't disagree with each other," he said in response to the center leaders.
Conversations will, hopefully, lead to action. Center leader Sarah Merriman said, "We need to have these conversations because keeping rape culture, and further, the way we fail at treating each other like human beings in college, needs to stay in our consciousness. Obviously, rape culture is a huge part of the atmosphere at BU and other schools, but the most important aspect of maintaining rape culture is the denial that it exists. We have to keep talking, and we have to keep learning. This is a learning environment, where we are encouraged to stretch our minds—and why shouldn't that constant learning and growing that goes with college apply to learning and changing our ways, our habits, and our culture?"
After Dean Elmore left the center, the gathering converted to a town hall style meeting. Those present continued to discuss rape culture and brainstormed plans of action. Ideas posed included a March 30 "Take Back the Night" rally, a possible ally network of males standing up against rape, and continued publicity for the cause. The young women and men of the Center for Gender, Sexuality & Activism won't be backing down any time soon.
To get involved with the Center for Gender, Sexuality & Activism's continued efforts to eliminate rape culture and provide increased resources for assault victims, visit the center's website at buwrc.org or stop by the center in the basement of the GSU, next to the Terrier Cards office.