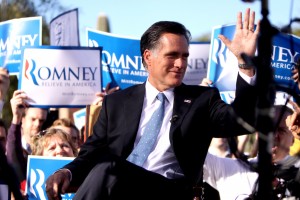 With just a week remaining until Super Tuesday (the day on which 10 states, including Massachusetts, will hold their Republican caucuses), the pressure is on for the Republican candidates. Feeling the pressure, perhaps more than others, was sure to be former Massachusetts governor Mitt Romney, who after wins in early January has seen his front-runner advantage chipped away at by Rick Santorum's impressive performances of late.
Well, Mr. Romney can now breathe easier as Arizona and Michigan held their primaries yesterday. With 47.3% of the vote, Mr. Romney easily won Arizona, the state in which he finished second to John McCain, the eventual Republican nominee, in 2008. Mr. Santorum finished a distant second with 26.6%. As expected, Newt Gingrich and Ron Paul trailed behind with 16.2% and 8.4%, respectively. This win gave all of the state's 29 delegates to Mr. Romney, an amount that should not be scoffed at.
Romney spent little time campaigning in Arizona, but analysts say that his victory was more or less guaranteed by endorsements from Governor Jan Brewer, Senator John McCain, and a sizable Mormon population, amongst which Mr. Romney regularly polled extremely well. According to exit polls from Arizona, the factor that most influenced voters' choices was the electability of the candidate–whether he could beat President Obama in November–which is a statistic sure to please Mr. Romney and his campaign. Confirming this belief was Gary Pierce, chairman of the Arizona Corporation Commission, who stated, "He's probably the one most equipped to take on Barack Obama."
Yet for all its importance, Arizona's primary was greatly overshadowed by that of Michigan–the state which Mr. Romney calls his home. Mr. Romney was born in Michigan, and his dad served as governor from 1963 to 1969. This contest was still a victory, but a much tighter affair, as Mr. Romney finished with 41.1% to runner-up Mr. Santorum's 37.9%. Mr. Paul and Mr. Gingrich rounded off the group with 11.6% and 6.5%, respectively.
A large proportion of Mr. Romney's votes came from the counties in and surrounding Detroit, which means that although he racked up a victory, it is perhaps not the overwhelming one for which he hoped. Michigan awards its 30 delegates by Congressional district, meaning Mr. Santorum leaves the state with almost the same number of delegates as the victor. As such, it was no surprise to see the former Pennsylvania senator beaming as he addressed his supporters: "A month ago they didn't know who we were. They do now."
Coming into Michigan, it was not considered far-fetched for many Republicans to name The Great Lake State's primary the make-or-break point of Mr. Romney's campaign. A few months ago, his advisors had predicted that Michigan would offer an easy victory. After a string of losses to Mr. Santorum, however, Michigan was none too receptive to its hometown boy, and the competition for the 30 delegates became rather fierce.
Although his margin of victory was small, Mr. Romney certainly has a few things to be pleased with. For one, he is–at least in one respect–consistent. Once again, the largest block of his votes came from the older, better-educated, and higher-income voters, a trend that also continued in Arizona.
With the two wins boosting his confidence and inching him a little bit closer to the nomination, Mr. Romney did not even mention his fellow Republicans in his speeches, but focused exclusively on President Obama: "Our campaign is about more than just replacing a president. It's about restoring the promise of America."
It goes without saying, of course, that Mr. Romney must not rest on his laurels after these victories. Super Tuesday awaits -a day on which states like Georgia, Oklahoma, and Tennessee will vote. These are the states which Mr. Romney is likely to lose to his more socially conservative competitors. Focus is paramount if he hopes for a strong showing in Alaska, Massachusetts, Ohio, and Vermont.