There is a common misconception that sweet potato fries, for the simple fact that they are not french fries, are healthy. Sure, they may be healthier for you than regular fries–sweet potatoes have fewer calories than regular potatoes, and they are a better source of vitamins A and C–but that doesn't mean they are necessarily healthy.
Most restaurants that offer sweet potato fries deep fry them in the same hydrogenated vegetable oil used for regular french fries. In other words, the "healthy" alternative is probably as bad as the original french fry itself. There is, however, an alternative to the alternative: baking the sweet potato fries at home. Key word: baking.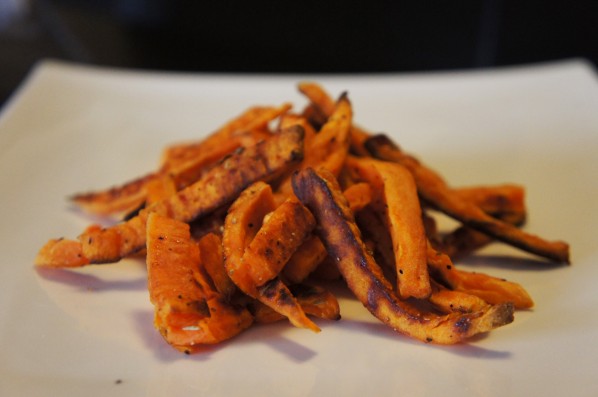 Baked sweet potato fries are healthier than their fried counterparts because they are lower in fat. Plus, the cook has control over the amount of salt added so they are lower in sodium as well. Then there are an array of flavors to be added using spices like fresh ground pepper, rosemary, oregano, and chili powder. Whatever is added to them–unless it is heaps of chipotle mayo or sugar–sweet potato fries are healthier when made at home.
Rosemary Sweet Potato Fries (adapted from Epicurious)
Active time: 10 minutes. Total time: 40 minutes.
1 1/2 lbs. sweet potatoes, peeled
2 tablespoons olive oil
1 tablespoon rosemary
Salt and pepper
Preheat oven to 450F. Cut the sweet potato in half crosswise and then into 1/2-inch slices. Cut each slice again into 1/2-inch strips

Thinner slices will make crunchier fries; thick strips stay softer. | Photo by Estefania Souza.

Place fries in a large bowl and add olive oil. Toss until coated well. Add rosemary and toss again. Season with salt and pepper. Spray a large rimmed baking sheet with cooking spray and place fries in a single layer.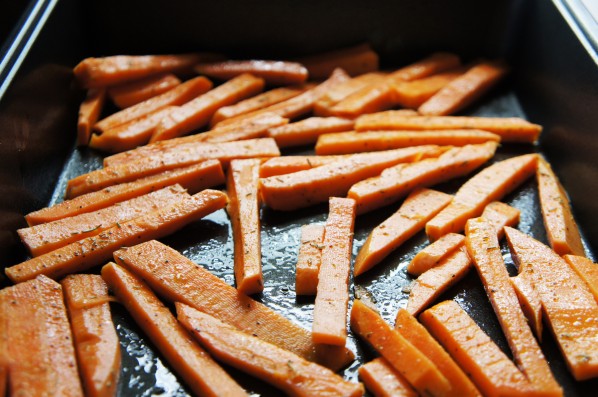 3. Cook fries for about 30 minutes total, or until slightly browned and crispy on the outside. After 10 minutes in the oven, toss fries to ensure even cooking. Check fries every 5 minutes and toss. Let fries cool for about 5 minutes and serve.