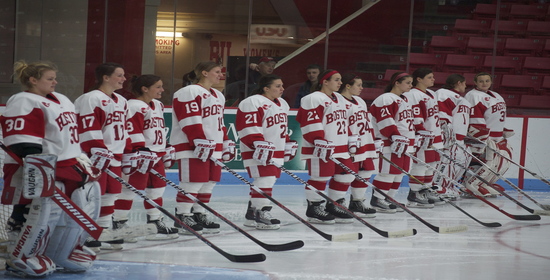 The No. 5 ranked Boston University women's ice hockey team punched its ticket to the NCAA Tournament. This followed the team's thrilling double-OT win against Providence in Sunday's WHEA Championship.  The Terrier's captain, Jenn Wakefield, scored both goals for BU and was named Tournament MVP.
The Terriers (23-13-1, 14-7-0 WHEA) won the game on Sunday, but until late in the third period, it looked as if Providence had the game sewn up. The Friars were up 1-0 thanks to a first period goal from Laura Veharanta, but the Terriers held on tight. Boston University's head coach Brian Durocher pulled his goalie – sophomore Kerrin Sperry – with under 90 seconds remaining in regulation in order to give BU a 5-on-4 advantage following penalties from both sides. A shot from BU sophomore Marie-Philip Poulin deflected right in front of Wakefield, who netted the puck with just 7.3 seconds left on the clock, to tie the game at 1-1.
The first overtime period was scoreless. The second overtime lasted only two minutes and 15 seconds before Jenn Wakefield lit the lamp again giving the Terriers a win and sending them into the NCAA Tournament. That goal was Wakefield's 28th of the season, and fifth of the Women's Hockey East Tournament.
Sophomore Kerrin Sperry also played excellently on Sunday. She stopped 31 shots from the Friars while in net, nine of those saves coming in the first overtime.
With the win on Sunday, BU earned itself an automatic bid into the NCAA Tournament. They will face off against the third-seeded Cornell Big Red in the Quarterfinals on March 10 at 2 p.m. BU defeated Cornell (29-4-0, 20-2 Ivy) 4-1 in the Frozen Four of last season. They ultimately went on to lose to Wisconsin in the National Championship Game.
The Terrier defense, particularly Kerrin Sperry, will have their hands full this Sunday against a powerful Cornell offense led by Rebecca Johnston (27 goals, 29 assists) that averages 4.6 goals/game and 37.1 shots/game. Sperry sports a goal against average of 2.41 and a save percentage of 0.917. She is going to have to be at the top of her game Sunday if BU is going to prevail.
The offensive attack for the Terriers isn't too shabby either: they average 3.2 goals/game and 32.5 shots/game. If any of BU's scorers can find the back of the net, then the team should be able to advance past Cornell this weekend.
The winner of Sunday's game will go on to face the winner of the Minnesota-North Dakota match-up in the Semifinals. Minnesota and North Dakota will play this Sunday at 5 p.m.