There is simply not enough classical music out there, so last night at the Gallery, the Liberian Education Fund (LEF) brought classical music and funk to Boston. Inside a room filled with paintings, the LEF welcomed students, musicians, and friends to From Bach to Funk: A People's Concert for Liberia–a charity concert in which the proceeds would go to high school and college students in Liberia.
The evening began with Boston University's own chamber orchestra, the Palaver Orchestra. The Palaver Orchestra came together back in December 2011 with the intent of performing at this concert. The fourteen musicians dressed in shades of black and red, and together with the string chamber orchestra and harpsichordist, they filled the exhibition room with playful tunes from Bach. The night continued with Beethoven from the Bard College Horn Sextet, vocals from the BU Contemporary Vocal Ensemble, and folk duet from sisters Mia and Ari.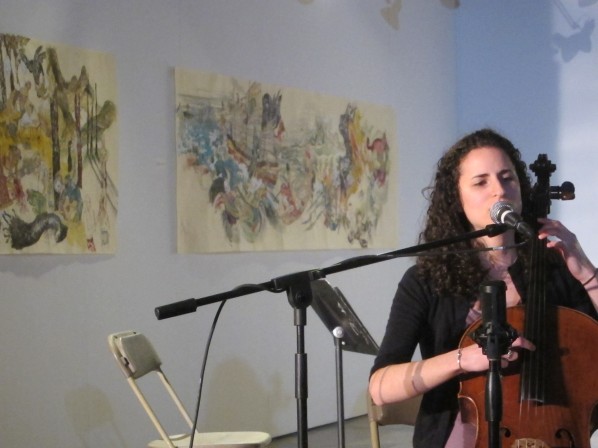 A quick intermission split the first half from the second, except this intermission was inside an art gallery. The entire floor was a great way to kill time: expressionistic artwork hung from white walls with dim lights illuminating the square canvases. However, when the musicians rolled back onto stage, drunk with energy, the night took on a different mood. Classical music became modern. The Dear Abbeys, a BU a cappella group, sang some popular pop songs. The Love Experiment played a stream of songs that fused jazz and soul. Gabreila Diaz performed a piece by Toshio Hosokawa. The energy continued throughout the night until it finally ended with an upbeat, move-your-feet tango piece performed by the Palaver Orchestra.
The LEF has been around for awhile; the group has websites, coordinators, contacts, photographs, and biographies. The proceeds raised from last night's ticket sales already have a place in Liberia. The money goes to a Liberian coordinator in charge of selecting scholarship applicants from various Liberian high school and college students, who on average need two hundred and fifty dollars to help pay for textbooks and tuition. Maya French, president of the LEF, has been helping students in Liberia since 2006. She organized the charity concert, played in the concert, and manages the LEF.
This concert is a diverse package: there is tango, Japanese, soul, jazz, fusion, pop, classical, Baroque, folk, Irish, and charity. Five dollars for a concert is a bargain, and with midterms coming to a roaring halt and spring break around the corner, the concert is a nice touch to an otherwise crazy spring semester.
The concert will be at the Gallery (808 Commonwealth Ave.) from 8:00pm to roughly 10:30 on Friday. Tickets sell for $5 for students and $10 for the general public. To learn more about the Liberian Education Fund visit their website at http://www.liberianeducationfund.com/ or visit them on Facebook.