"Walk with a buddy. Keep your cell phone close by. Bring pepper spray, if possible. Walk quickly. Be aware of your surroundings. Maybe you should take a self-defense class one of these days. Call me when you get home. Tell people where you're going to be." This lecture is all too common for most young women; they've heard it from mothers, fathers, and boyfriends alike. Women who choose to walk around at night must suffer the accompanying anxiety and paranoia generated by the real risk of being the victim of a crime of the night. Of course, that's not to say men are entirely excluded, either. No one is immune to sexual assault victimization. Being afraid of the dark isn't just a childhood fear of monsters under the bed.
On March 30, Boston University will host a Take Back the Night rally and march to encourage young women of Boston to reclaim these fearful hours of darkness. BU's Feminist Collective, or FemCo, will host the evening of empowerment. This is not the first event of its kind at BU, but it may have the greatest turnout.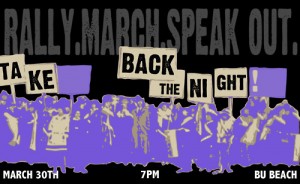 The first ever Take Back the Night rally took place thirty-six years ago in Belgium. The first United States TBTN took places two years later in November, 1978 in San Francisco, hosted by the group Women Against Violence in Pornography and Media. The 'night' referred to in the event's title has evolved into a symbol for sexual violence as a whole. The description of BU's event calls it "a sex-positive, anti-violence and sexual assault awareness campaign."
Boston University's very own Take Back the Night march will begin at 7 pm at the BU Beach. The entire Boston University community is invited – students, faculty, professors, those whose lives have been touched by sexual violence and those who serve as allies. The night will begin with a speech from sexuality educator Megan Andelloux. Andelloux is an author of books by the likes of Sex and Society and We Got Issue: A Feminist Response to Cultural Attitudes on Feminism. After Andelloux, a speech will be given on the topic of consent. Center for Gender, Sexuality and Activism public relations coordinator Michelle Weiser said, "We chose to have a speaker about consent because most students dont really understand what consent means, let alone that it is actually a really sexy and positive thing." The topic of what it means to be a bystander will also be explored in talks prior to the march. After speeches and skits, a candlelight vigil and "speak-out" will take place. What may arguably be the most powerful part of Take Back the Night events are the first person accounts of sexual violence told by survivors. Although the tales are sorrowful and tragic, they also serve as inspiration to "take back the night" and march into the dangerous darkness in unity and solidarity.  The march will end where it began, at the BU beach, with a culmination celebration at 9 o'clock.
In light of recent sexual assault charges against two BU hockey players, the accusation of a sexual assault in Mugar Library, and increased rape culture awareness on campus, the timing of the Take Back the Night march and rally couldn't be better. We are a campus in need of healing. From a press release from the Center for Gender, Sexuality & Activism:
Take Back the Night, a nation-wide campaign, comes after numerous sexual assault instances have been reported at BU. Take Back the Night intends to empower students to keep speaking out against sexual assault, and to explore the extent to which reported assaults are not isolated incidents, but possibly a university culture on campuses across the country, including BU.
Weiser further said, "In light of the recent sexual assaults at BU, and in general, its important for students to be reminded that someone cannot give consent when they are under the influence of drugs or alcohol, you cant give consent if you are passed out. … These are ideas that contribute to rape culture, and this is what we are trying to help people understand at Take Back the Night."
Although Take Back the Night marches can't alleviate the incidence of nighttime sexual violence, the events can bring a sense of peace and unity to survivors and supporters. "BU students, faculty and community members will benefit from attending because it is incredibly empowering to know there is a community-wide effort being made to combat rape and sexual assault at your university. If the crowd is full of CGSA members, sports teams, greek life members, feminists, activists, and people who dont subscribe to any of the above labels – it will prove that we are a united community working to make our campus a safe place for everyone," Weiser said. BU is invited to step out of their dorms, apartments and, perhaps, comfort zones to join in forging a bond of support with a goal of safety.