After an unbearably long hiatus, it's back.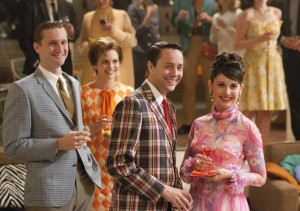 Yes, Mad Men, the stuff of TV legend, has returned to our screens (AMC, Sundays at 10 p.m. Eastern Time) to great acclaim. This past week's two-hour season premiere showcased some stunning developments, both in plot (She knows?!  He's happy?! She had the baby?! Her mom is horrible!) and in style. The show's beloved characters' lives seem to have gone on without our viewership for the same length of the show's hiatus, and in that time there has been a wedding, a birth, several moves and more than a few identity crises. It is now 1966 in Mad Men's New York, with the issues of the time (the Civil Rights Movement, in particular) weighing heavily on everyone's lives. The show's creators are certainly not shying away from the advances of time. The sixties are disappearing fast while the seventies are appearing on the horizon. Nowhere was this more apparent, however, than in the evolving wardrobes of the characters.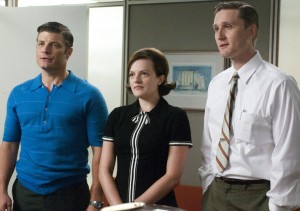 Hints of the approaching new decade were peppered throughout the episode: hints of the iconic '70s avocado green (Ken Cosgrove's beautiful suit), burnt orange, coral and sunny yellow constituted much of the palette, excluding for the most part the jewel tones and mustard yellows of years past. The show's most au courant characters, Trudy Campbell and the new Mrs. Megan Draper, were especially current in these trends. Trudy's orange and green striped housecoat, a vivid reminder of Betty's past attire (if more current) as well as her vivid pink and purple cocktail dress with its high neck, psychedelic print and feathered cuffs, not only demonstrate her wealth and style, but showcase the advance of the trippier styles of the 1970s. Megan, however, received the true star treatment in this episode, parading about in outfit after fabulous outfit. As a secretary in SCDP's offices last season, Megan was frequently dressed youthfully in crayon-like colors and simple silhouettes. This week's episode, however, shows Megan as the new Mrs. Draper–sophisticated, fashionable and extremely sexy. She is still often dressed in bright colors, but they are now corals, whites and deeper reds versus the sunny yellows and greens she's previously sported. She is also intensely sexualized with borderline-indecent hems (that leg lift!) and provocative lingerie. In fact, overall, there was a much more obvious emphasis of sexuality across the board, with more skin shown by all–the leggy looks of Megan's artist friends, obvious cleavage on the secretaries–a far departure from the body-hugging, yet covered-up sex appeal of earlier fashions.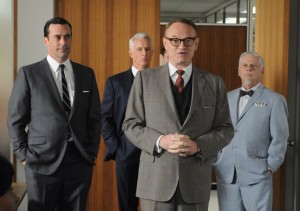 Though the clearest evolution of style was shown by female characters like Trudy and Megan, change was also visible on the men. Suits were, across the board, looser, broader and in more drab colors. The show's early days showed Don, Pete Campbell and Kenneth Cosgove in slim-fitting suits in black, bright blue and camel, and always with crisp white shirts and thin ties. This season, the offices of SCDP are populated by a much more diverse palette of sage green, heather grey and navy, in looser-fitting cuts and short, wide ties. The TV department's Harry Crane progressed to layering mock turtlenecks under his blazers and topping them off with black-rimmed spectacles. Plaid also made a major appearance in Pete's red and black cocktail party blazer, paired with a short red tie. Only Roger Sterling, who has consistently worn the same suit through five seasons, remains unchanged in clothing style. Though this does reflect the actual style changes, it also represents a possible transition in character; all of them are showing their age and are filling their suits differently in more ways than one. If the show progresses further with this evolution, it won't be long before we see the paisleys and corduroys of the next decade on SCDP's employees.
The most telling element of the show's style genius, as well as its fastidious attention to detail, is the way it allows its characters to be occasionally out of style for the period. Peggy is still dressed in some of the same outfits as in seasons past, a detail which not only shows that she is a real human being who recycles clothing, but that she hasn't stuck to every new trend that's come out. She is dressed much sharper than when we first encountered her–although it was a brilliant move on costumer Janie Bryant's part to dress her in the same schoolgirl-style plaid skirt and white blouse she used to wear when she had to mind Joan's baby, forcing her to relive her past–but she is not a trend maven, and it wouldn't suit her personality to spend so much on clothing.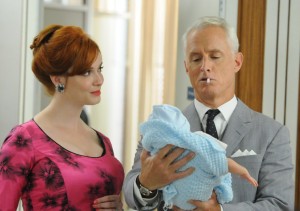 Joan Holloway's style, however, is the most telling. Once the ultimate sex symbol, roaming the offices of Sterling-Cooper with every eye glued to her curves, Joan has become–gasp!–out of date. She is physically unchanged, all curves and red hair and pillowy lips, but her style of Marilyn-esque sex appeal is no longer celebrated, having shifted to the leggy physiques of Twiggy and Veruschka. When she clumsily walks into SCDP, stroller in tow, in a skin-tight pink dress, it's striking to note just how out-of-touch and desperate she looks. While Joan is not old by any means, she is suddenly out of style and is treated as such by everyone in the office.
This season promises to be a strong one, with new attention paid to the pressing social issues of the time and vastly shifting attitudes. Only time will tell what these developments will herald, but one thing is for certain–change is coming, and it might not be pretty.
Now, where is Betty Francis?