If there is one thing I love about chips, it's their crispness. The crunch that comes with chewing a chip cannot be simply replicated. Too bad each bite comes with piggyback calories and fat grams. Well, fear not. There is an alternative: veggie crisps. They may not have the genuine crackle of the ever-loved potato chip, but they are delicious and certainly health-friendly.
There is an array of vegetables that can be used for homemade chips; anything from kale to radish. Basically, any vegetable that you can get into a thin slice can be turned into a chip. Nevertheless, some are better than others because they contain less moisture, producing a crispier chip. So, tomato crisps are not a good option.
Here is a recipe for sweet radish chips that taste delicious on their own or go wonderfully with a yogurt parfait. It may be more tedious than running to the corner store for a bag of chips, but—in the long run—it is a quicker route to a healthy body.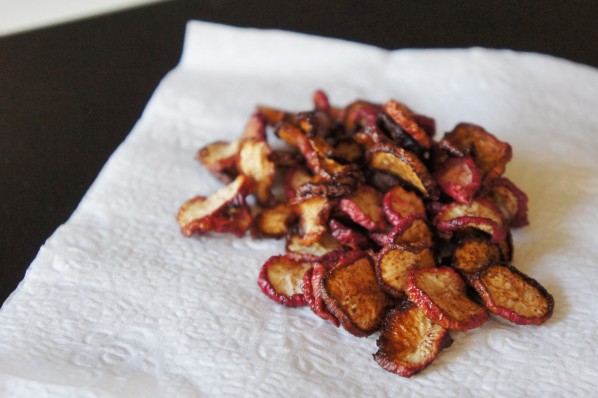 Radish Chips with Cinnamon (adapted from A Pinch of Yum)
Active time: 20 minutes. Total time: 55 minutes.
Makes about 2 servings
10-15 radishes
1 tablespoon olive oil
1/2 tablespoon honey
1 tablespoon sugar or granulated Splenda
Preheat  oven to 350ºF. Line a rimmed baking sheet with parchment paper. Slice the radishes to approximately 1/4 inch thickness and place in a microwave safe bowl. Microwave for 30 seconds, or until slightly softened. Drain liquid and transfer radish slices to a larger bowl.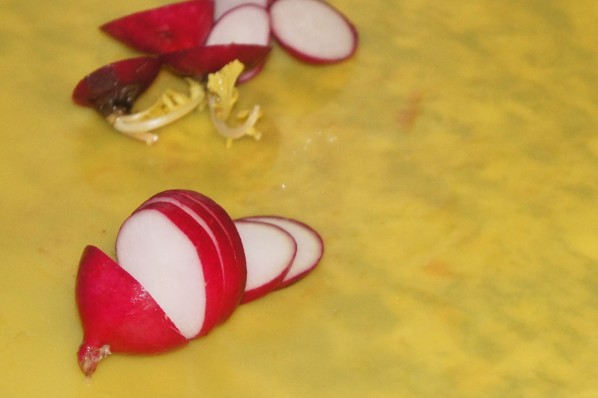 Add olive oil and honey. Toss until evenly covered. In a small bowl, combine the cinnamon and sweetener. Add to the radishes and toss until well coated.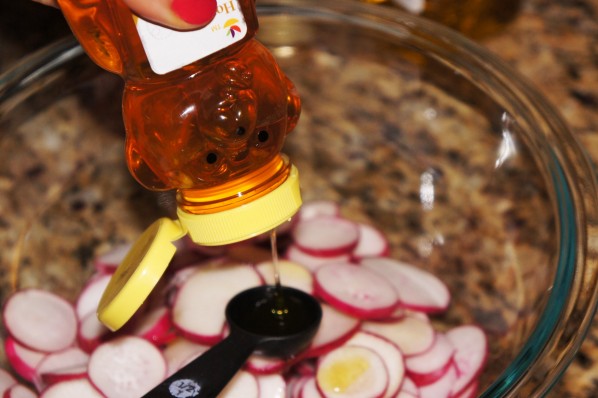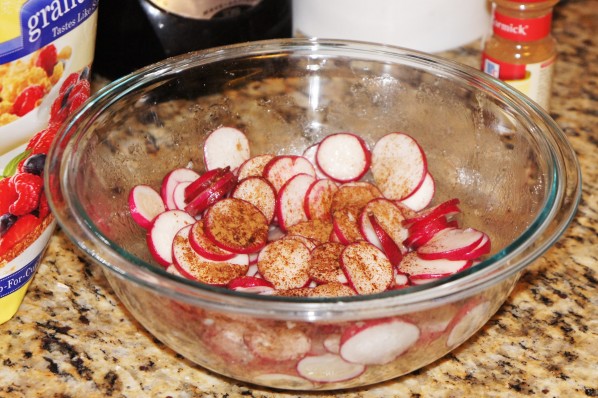 Spread radish chips on the lined baking sheet, making sure they are evenly spaced and in one layer. Cook for 15 minutes at 350, then remove and flip them over.  Reduce oven temperature to 225 and bake for another 20 minutes.  Radishes will begin to shrink and crisp up, but this is what is supposed to happen (they will turn out to be about 1/2 of their original size). Remove from oven and serve (better if consumed within 5 hours).