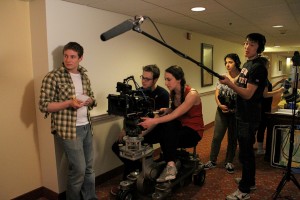 Boston University is a big school indeed. Within our microcosmic universe, the different colleges are somewhat like galaxies, each existing independently of each other and only vaguely aware of the other entities alongside which they exist.
When I transferred into the College of Communication as a film major, the only thing I knew about COM was that students did not have to take math. I had questions. Did film production majors get to go beyond the classroom? Or were my next few years going to be a scramble to absorb every bit of technical information thrown at me? My real question, though, was what set COM students apart from everyone else. As another academic year came to a close, I got to be a part of something in which most film production majors can only hope to partake before their college careers end. My questions were answered.
Production III is the highest level film production class that can be taken at the undergraduate level here at BU. Offered every spring semester, production students apply to the class as a director, producer, cinematographer, editor, production designer or sound designer. The production faculty then selects eight directors, based in part on the scripts they submit, and a team of every other position that will work to make eight thesis-quality films over the course of the semester. Students are chosen based on their work in previous production classes as well as their collaborative abilities. "All things being equal, we'll select the student who can offer advice, suggestions and constructive criticism," says Professor Sam Kauffmann, who facilitates the class. "We expect them to produce films that are amongst the best student films of the year."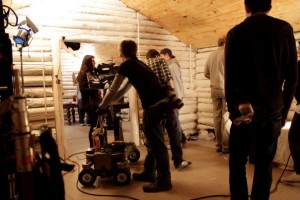 "As a production student you 'grow up' hearing about Prod III. It becomes mythical, and then finally being a part of it is very empowering," says Dan Salgarolo, a senior in Prod III who wrote and is now directing his film Simulacrum for the class. "It's just like in real life: you work hard, you network, you get to know people and you build a solid reputation. All of those things contribute to getting in to Production III," he adds.
"There's a difference between going into the class intending to make a great film and loving it so much that you put extra time and money into it because you put it before everything else," says Kevin Anton, writer and director of his film At the Home.
The group, which consists of 27 this year, goes through a process that begins when they workshop all eight scripts. Then they start pre-production, which flows into the actual film shoot. They finish with post-production. "The emphasis of the course is on thorough pre-production and a greater attention to detail at every stage of the process than is generally possible in earlier film courses," says Kauffmann.
The beauty of the course's setup is the involvement of the entire group in every one of the eight films. "As teams go scouting, looking for actors, etc. they are thinking about all eight films, not just the one or two they are directly working on," Kauffmann states. This is probably the most unique aspect of the class, as it brings together a spectrum of student filmmakers who work in close proximity with one another for four to five months.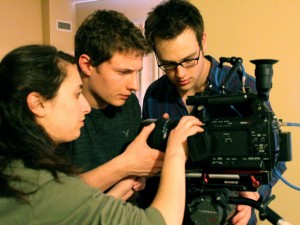 "We all have different creative styles and ideas that compliment each other in the best ways," says Kim Rideout, writer and director of The Doghouse, winner of the 2012 Adrienne Shelly Production Grant at this year's Redstone Film Festival. "Our class has become a family, one that feeds off each other's passion and drive and motivates each other to succeed."
Given the risk that comes with applying for the class, they share in the classic dilemma most production major seniors go through: to stay or not to stay. "I could have done the BU in LA program and worked at an internship in LA that could potentially have turned into a job. I decided to stay here and take my chances trying to get in to Prod III. My gamble paid off, and now I have a great film to put on my resume and real and invaluable experience that I can take with me as I move on to my career," Rideout explains.
Making the actual film is no walk in the park; each team is responsible for raising funds with which to back their projects. Most turn to funding platforms like Kickstarter and Indiegogo for help, while simultaneously looking for other sources of backing. Additionally, the class itself only takes up four to five positions on each film's crew as the projects are done on a larger scale than most other ones at BU, so they turn to people outside the group for help.
"Our films couldn't be realized without the help of people outside of our class," says Salgarolo. "It's valuable to younger students because it gives them a first taste of what it's like to work on a bigger and (generally) more organized crew."
This year, the group organized a workshop for people interested in being production assistants on the films. "I've been working on them since freshman year," says Anton. "I wanted to give the same opportunity to the underclassmen that I was offered." Being a PA on the set of a Production III film is a great way to gain hands on experience in the various aspects of production. It was a defining experience for Anton and also how he formed his closest friendships at BU.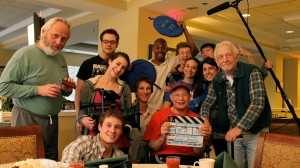 "We aim to make films that are worthy of winning awards," Anton states. True to this mission statement, a number of Production III films have been contenders in the Redstone Film Festival over the years. Cowboy Café, one of last year's Prod III films, has also gotten into the upcoming Boston International Film Festival. "Overall, the whole process from script to film festivals will be about a year. It's a long process that sometimes feels like it will never end, but over each hurdle is a rewarding feeling of accomplishment," says Rideout.
The course culminates in a final screening, open to the public, of all the completed films. This year it's May 18 at the Tsai Performance Center.
"This has been the training wheels that I needed before graduation," Anton states. "Hopefully I'm prepared now to ride the two-wheeler on my own."
"So many personalities and so many creative ideas come together, that what comes out is bound to be beautiful," adds Salgarolo. "It's how I continue to learn and grow as a person and a storyteller."
"I think the bonds these students form with each other will last for a lifetime," Kauffmann sums up. "I know they will look out for each other both professionally and personally for many, many years."
 For more information on "Simulacrum," go to their Kickstarter.                                                                                                                                                                                                                                                                                                                                For more information on "The Doghouse," go to their Indiegogo page.