Roblog is a weekly column dedicated to understanding the world of robotics. If science fiction is right and the impending robot apocalypse is real, it can't hurt to be prepared. Come back every Wednesday for a new blog of robot rants.
Thanks to projects like Google's self-driving car, driverless cars could be hitting the road sooner than you might think. Complicated on-board sensors and monitoring technology allow robot cars to keep track of surroundings and make predictions more accurately than a human driver could. Though it may seem counterintuitive, those involved with driverless car projects believe that these cars are actually safer, better at regulating traffic, and more fuel efficient than human driven cars.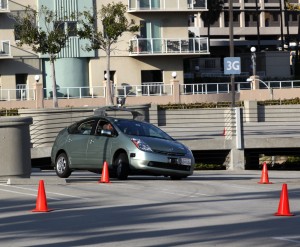 Google's driverless car is the most well-known, especially from their recent stunt of letting a blind man "drive" the car (with a licensed driver along for safety purposes, of course). They aren't the only ones, however, working on the robot car concept. Companies like Continental, a German automotive group, also have working prototypes of their own. While Google is hoping to drive cars completely without human intervention, Continental is striving for middle ground and working towards the car taking care of particularly stressful situations, like high traffic intersections or stop-and-go traffic.
As with other robots trying to do things usually reserved for humans, there are many questions of legality that must be answered before driverless cars are available. Most states currently don't have adequate legislation to regulate the use of self-driving cars. If former General Motors Research and Development head Larry Burns has the right idea, this will change very soon when self-driving cars are available as soon as 2020. Current laws state that cars must be driven by a licensed driver but do not always specify what it means to be a "driver." While driverless cars of the future certainly will have to pass rigorous safety testing, legislation will have to be passed that addresses exactly how automated cars are allowed to be and who is responsible for their safe driving. Nevada was the first state to pass such laws, which decided that, while driverless cars are legal, the human driver is ultimately responsible for all aspects of the car being handled safely.
While your car can't quite drive you around yet, many of the features that go into a driverless car are already in use. Some Ford models, for example, feature a parallel parking assistant that, "with the touch of a button," steers the car into a parking spot. Cadillac just announced a new feature to be implemented in their 2013 line, a seat that would vibrate on either side to let drivers know when they had strayed from their lane. Still others like Mercedes-Benz implement blind-spot assistant technology that helps drivers to safely change lanes. There's also technology to wake up drivers that seem to be falling asleep, to help slow down the car when the brakes are slammed on and to help prevent roll-overs on tight turns.
As technology continues to improve, it is certain that more features to both increase safety and enhance the driving experience will be added. If current prototypes are successful in their testing, it might not be too long before the cars do the driving and people are just along for the ride.