If there was one dish I craved constantly throughout my childhood, it was macaroni and cheese. Ever since I tried it (or since I can remember), I would pester my mom to recreate the cheesy pasta; she only did once or twice though. My mom—a nutrition nut—seldom agreed that boxed mac 'n cheese was a proper meal. So whenever I asked for it, she would try to make a healthy homemade version. She failed mostly. I can remember one great homemade macaroni and cheese—a creamy four-cheese sauce tossed with penne and baked until bubbly—but that is it. Every other time, my mom's macaroni and cheese was watery, dry or not cheesy enough.
So I decided to embark on an adventure: the quest to find the most delicious macaroni and cheese recipe. Over the course of the next few weeks I will eat more macaroni and cheese than I did during my whole childhood (well maybe). I am hoping that after this I will have the macaroni and cheese recipe to take to my mother (and make for my friends).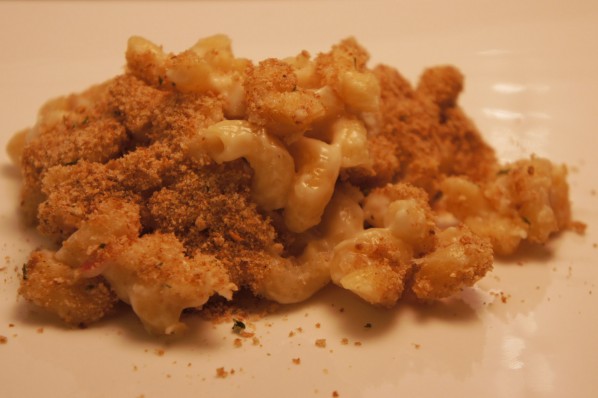 The first recipe I tried involves an ingredient that is unknown to many people—but a favorite of mine nonetheless—imitation crab-meat. The original recipe calls for lobster, but let's face it, do I really want to spend my weekly allowance on lobster meat for one night's dinner? The answer is no, so surimi (imitation crab-meat) is a great alternative.
Crab Mac 'N Cheese (adapted from Healthy Food For Living)
Makes about 6 servings.
Active time: 25 minutes. Total time: 1 hour.
1 teaspoon Canola oil
½ lb. elbow pasta
2 cups low-fat milk
4 tablespoons salted butter, divided
¼ cup flour
6 oz, about 2 cups, grated gruyere cheese
4 oz, about 1 ¼ cups, grated 50%-reduced fat cheddar cheese
1 teaspoon salt
½ lb. pre-cooked imitation crab-meat (ask for it in the seafood section)
1/3 cup breadcrumbs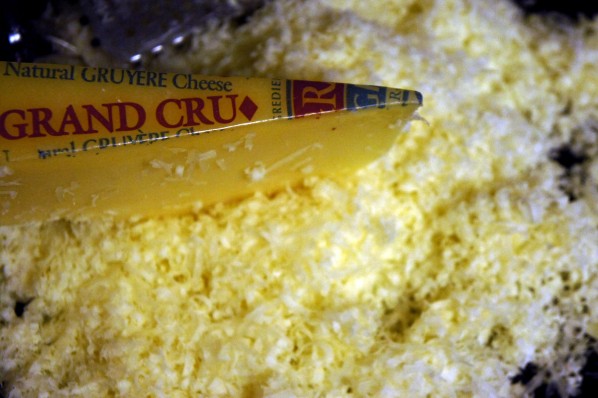 Preheat oven to 350 F. Coat an 8×8-inch baking pan with canola oil, spreading it evenly with a paper towel.
Bring a medium pot of salted water to a boil; add pasta and cook until al dente, about 1-2 minutes less than the amount recommended in the box). Drain and set aside.
In a separate pot, heat milk over medium-low heat until hot but not boiling. Turn off heat and set aside.
In a large saucepan, melt 3 tablespoons butter over low heat. Whisk in flour for about 1 minute. While continuing to whisk, pour in hot milk and stir until smooth and thick, about 1 more minute. Remove saucepan from heat and stir in grated cheese. Add a teaspoon of salt and pepper to taste. Pour mixture into prepared baking dish.
Melt remaining tablespoon butter in the microwave and stir in breadcrumbs until moistened. Evenly spread buttered breadcrumbs over pasta. Bake for 25-30 minutes or until breadcrumbs are golden and cheese is bubbling.