New York Fashion Week: Four Fresh Shows Straight From the Tents
It's Fashion Week in New York City, and among the flurries of fantastically dressed editors, models, and celebrities wandering the city hoping to be photographed by Scott Schuman, designers have taken to the tents to showcase their newest dazzling offerings. Though the season has been good to many of the designers we all know and love (Oscar De La Renta always delivers), some of the best shows of the season have come from up-and-coming designers. From baroque hipster to riot grrl influences, fashion is officially fun again!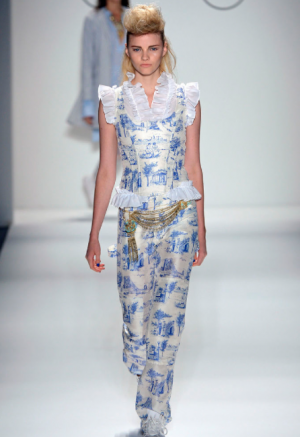 1. Ruffian
While referencing "hipsters" as a point of fashion inspiration may sound a little canned, Ruffian's spring ready-to-wear offerings carried a bit of a twist. The clothes, often in loose cool-girl silhouettes, were decked out in baroque fabrics (toile! lace! brocade!), prints, and embellishments in a subtle palette of white, pink, pale yellow, and light blue. There were also a few '50s era silhouettes (peg pants, full skirts) dotting the Ruffian runway, lending the collection a uniquely updated vintage feel. Final brilliant touches like pairing the looks with Chuck Taylor All-Stars and carefully undone beehive hairdos made the collection feel cool, young, and supremely wearable.
2. Nicole Miller
Nicole Miller has been around for many years, crafting beautiful and wearable garments for the everyday woman. Recently, however, Miller has undergone a complete branding overhaul–no longer does she wish to be known solely for pretty dresses to be worn for special occasions. Miller's recent collection demonstrated sensitivity towards a younger client than many of her previous collections, citing the '80s and sci-fi as inspiration. The looks were savvy, practical, and gorgeously rendered in cool-colored kaleidoscope prints.
3. Gerlan Jeans
Girl power! In a year of femme punk defiance (hello, Pussy Riot!), a collection like Gerlan's feels unbelievably timely–not to mention fun. The Gerlan runway, attended by all manner of punk rockers and cool kids, was an explosion of spunk, sweetness, and rebellion. Minnie Mouse, military fatigues, the Spice Girls, and girl fighters were all cited as influences for the looks on display. The outfits were done up in shades of pastel pink and light blue, styled with red shoes, but the most powerful accessories surfaced at the end of the show. With the final walk, all the models donned balaclavas–a clear homage to Pussy Riot.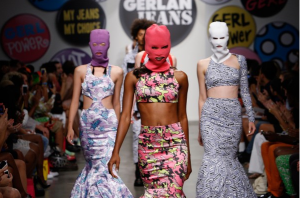 4. Proenza Schouler
Proenza Schouler is always a favorite at every Fashion Week, not only because they make beautiful clothing and covetable bags, but also because the two-man design team of Jack McCullough and Lazaro Hernandez seem to consistently predict the next wave of cool-girl dressing with laser-focused accuracy. This season, the looks marching down the runway were decked out in perforated leather, photo prints, and patches of glossy satin. The silhouettes were alternatively stiff and buttoned-up or loose and fluid. Layering has always played a major part in PS's unique flavor of cool, and this season was no different.
The buzzword of this season's Fashion Week in New York seems to be "cool." The youth has certainly taken over, inspiring designers to embrace their inner punk rockers and hipster roots on the runways. Watch out for an abundance of leather and military looks this season!