If you walk into the lobby of the College of General Studies sometime in the next few days, you'll hear a voice floating through the air. A video plays on the lobby wall facing the doorway, old black and white photos augmented by the voice of Linda Wells, the current Dean of CGS. She makes her way through a history of CGS that travels from the school's first building on Copley Square to its current home on Commonwealth Avenue. She places CGS firmly within Boston University's own history, relating its growth to the university's growth over past six decades.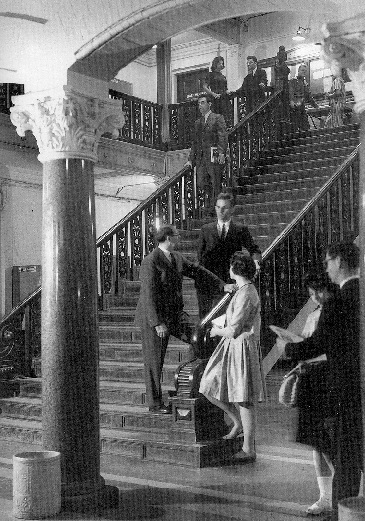 But CGS is often set apart from the rest of the university in the minds of its students. There are commonly known stereotypes about CGS that float around the university at large. When I arrived here as a transfer student two years ago, I did not understand the purpose of CGS. I wasn't even sure what the acronym meant. When I heard the name said in full, my confusion doubled. What are "general" studies, I wondered.
This lack of knowledge was complicated by the fact that everyone I spoke to about CGS had a definite attitude, and for most people, that attitude was negative. "It's where they put the dumb kids," I heard. "It's how the university makes money," they said. One friend was openly resentful, believing that students from CGS are able to transfer to other schools more easily than the rest of BU students. "But I guess I shouldn't complain," she said with a shrug, "Their tuition is probably paying for my financial aid."
Everyone I talked to had an opinion. But very few—none, actually—were able to tell me exactly what the role of CGS is on campus. Where did it come from? How does it work? How do CGS students feel about their own college? And if these stereotypes came, like most stereotypes, from a corrupted grain of truth, what truth was that?
The College of General Studies is a two-year program with one core philosophy: that a true liberal arts education is essential for educated citizens in a democracy. Students take a core curriculum composed of courses in the Humanities, Rhetoric, Mathematics, and the Natural and Social Sciences. Each semester they take one "elective" course at other colleges in the university. These electives make it possible for students who are pursuing degrees with heavy prerequisites, such as Neuroscience or Human Physiology, to complete their degree in a four-year time span. There is a study abroad program in London over the summer where students can complete core requirements. After two years, as long as a student is in good academic standing (which means a 2.0 or C GPA) they can transfer into any other college at the university. There are prerequisites at several colleges, and the College of Fine Arts requires a portfolio review for entrance. However, students usually make the change with few problems; the graduation rate from CGS is as high as the university's average. CGS also has similar retention rates.
The office at 871 Commonwealth Avenue, where the College of General Studies is located today, is well decorated and comfortable. The walls are lined with informational pamphlets and papers with titles of different majors, laying out possible elective choices and class pathways in order to graduate on time. It is also where Senior Assistant Dean Stacy Godnick has her office. Dean Godnick is an engaging woman; the contact who referred me to her called her "forthcoming." Attractive, wiry, and full of energy, Dean Godnick is always active. It is almost possible to see the gears clicking and whirring as she peers into the middle distance, searching for an answer to a tough question. She is also clearly passionate about her school.
She describes CGS as a small liberal arts program within a larger university. She emphasizes the small class sizes, the unique relationship with professors, the fact that students are held accountable everyday for their learning. It seems fitting that this woman, who is so vibrant in her actions, is such an advocate for active listening, active learning. After a few minutes of listening to her extol the virtues of CGS, I am half-convinced that I should have applied there myself.
But there are also facts about CGS that could place the school in a dimmer light. It is true that the SAT scores and GPAs of entering CGS students are, on average, lower than the rest of the university. Dean Godnick explains, "There are a certain number of spots available at every college, and if a student is just right on the line but doesn't quite make it over that cut-off, they are considered for CGS." According to Godnick, 25 to 30% of their students apply directly to CGS. All the others are placed in CGS after being redirected from the schools to which they originally applied.
However, the difference between CGS students and students at the other schools is almost negligible. "When you're looking at a school as competitive as Boston University, it may be as small as, this student was an A- student, this student was a B+ student," says Godnick. And she states unequivocally, "Professors can't notice the difference between CGS students and students from other schools. If they do notice the difference, it's positive—students here are used to working more closely with their professors. It's the culture here."
But it's not the professors that students could have trouble dealing with. Other BU students can be casually dismissive of CGS students. I spoke to Kerry Aszklar, a senior in CAS studying Sociology, about her experience in CGS. "People think you're not as smart., she says. "Amongst the rest of the school there's a stereotype that CGS is filled with students that just aren't as smart and not as dedicated to their work. I do not understand why that stereotype exists. I knew CGS students that knew what they wanted to do in college, they had a set plan, and they were brilliant." She shrugs and says, "I don't know…when people keep telling you you're stupid, it's easy to start believing it."
I ask Dean Godnick about CGS' repuation among the student body. "It's human nature," she says. But there is, in a way, a truth about the stereotypes. "The financial piece is, the way financial aid is awarded, especially merit aid, is [the university] tries to lure the top students in the nature here. At this university, there's going to be more money for those kinds of students. It's not that [our students] get less aid, but they do get less grant money."
When I ask her how students respond to the negative stereotypes, she puts in chin in her hand. "Some students make it through CGS without having heard anything like that." She admits that some do, and says that when that happens, they often go to their advisor or the Dean herself and "we talk about strategies." When asked to be more specific, she shrugs. "What do you do when someone says something biased or ignorant? We talk about that." She acknowledges that gap, but tells me directly, "This is not a school of remediation."
And truthfully, it never has been. Its origins are based in the idea of making the curriculum of a research university approachable to students that had some catching up to do. The College of General Studies has been a part of BU since 1952. At that time, the college was spread out all over the city, and its reputation as a research university was just starting to blossom. Hordes of veterans were heading back to school thanks to the G.I. Bill, and a few professors realized that these men needed something a little bit different from the usual incoming freshmen.
The office of Robert Oresick, a Senior Assistant Dean at CGS, is crowded with framed pictures of BU students over the years and chess memorabilia. "Yes, I do love chess," he says when I ask. "I'm an advisor for the club here." He is also somewhat of an informal historian of CGS—at the very least, he knows a lot about how the school was founded. Leaning back in his chair, he tried to give me some perspective of what the founders of CGS—then called the Junior College—were thinking.
"They suddenly had the prospect of many more students coming in, and they were students that weren't on a normal academic path, because they'd been driving a Jeep in Europe." He frames the air with his hands. "How do you introduce people to a research university, a large university, after they've been doing other things? Boston University said, we will make a college to make this transition possible. They wanted to make this university the best teaching unit—a teaching orientated college—to ease the transition into the university."
The truth of CGS is centered on that history. CGS is a college based on an understanding of liberal arts, of a broad education, to prepare students for the world ahead, no matter their background. It emphasizes teaching, professor to student interaction, and student involvement. Yes, it is likely that a higher percentage of CGS students pay full tuition. Yes, most CGS students come into the school with lower grades and SAT scores. The truth is, CGS takes students who have potential and puts them in an atmosphere where they are both supported and held accountable for their progress. And I see nothing wrong, and much right, with that.