Center for Sexual Assault Response and Prevention Opens on Campus
Boston University students have heard about it all too much: athletes committing sexual assaults, frats hazing, peeping toms in dorms, assaults in the library, and the Freep's bad judgement in joking about it all. By the end of the Spring 2012 semester, something had to be done. Boston University had to start making steps to not only save the school's image, but much more importantly, better serve students' needs.
The Center for Sexual Assault Response and Prevention has opened this fall, offering "rapid, confidential, compassionate, supportive, and free-of-charge advocacy and assistance to BU students who have experienced a traumatic incident," according to their recently launched home page. The services include response to all kinds of assault: physical, sexual, and interpersonal violence. The opening of the center marks an important step towards opening conversation about the terrible truth of the assaults that permeate college campuses. The sensitive topic is all-too-often pushed under the rug or not properly addressed by administration.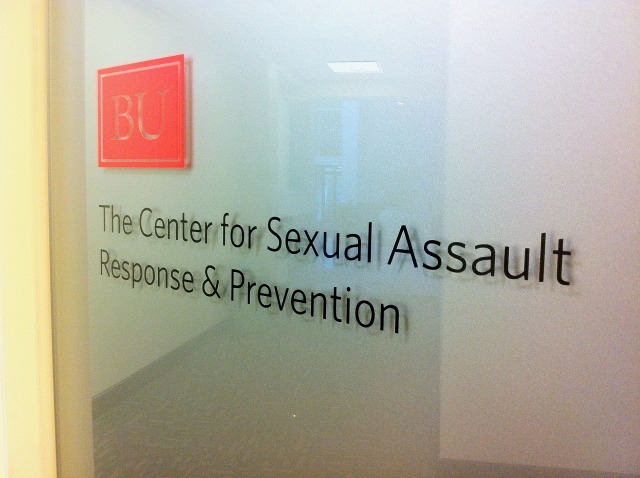 As for the prevention aspect of the center, SARP has collaborated with the Dean of Students Office to hold two-hour bystander training sessions free-of-charge to any students interested. Furthermore, all officers of student groups that receive funding from the Student Allocations Board are required to be trained, and resident assistants and athletes have completed sessions. According to a recent BU Today article, around 1,000 students have been trained.
The opening of this highly anticipated center has been widely covered and publicized. What was less publicized was that the proposal originated in one of BU's own student groups. The Center for Gender, Sexuality and Activism presented a 72-page proposal in early April, which six students, including members of the center and supporters, worked tirelessly to draft in less than two weeks. The group presented to President Brown and, shortly after, Brown announced the new center in an email to all students.
"It's not a story that's being told," says Sarah Merriman (CAS'12). "It's natural to assume a big center like this would be handed down from the administration."
What many took as a simple response by administration to the shocking series of events of last year was really the last straw of an ongoing push by both students and BU faculty. "This has been a long fight," says Gabrielle Newton (CAS/COM'14). "For decades it has been in the works, but the media gave a voice that the administration would listen to."
Perhaps the single positive effect of the bad press that BU received throughout the spring of 2012 is that it turned the proposal for SARP into a necessity. The issue could not be overlooked any longer, and the BU community could not continue to ignore it.
In the spring, the CGSA had been working around the clock to respond the various crises and support the BU community in areas that the administration had been unknowingly neglecting. The board of the CGSA had been mostly seniors, says Merriman, which made for an already stressful time of applying to jobs, graduate schools, and preparing for the real world of post-graduation.
"Last semester, we made a joke in the center that every Monday we would wake up to a brand new crisis related to us," says Merriman, "We even had a three day weekend and then on Tuesday we had a crisis."
The CGSA was constantly at work, holding meetings and receiving press inquiries. "Town meetings" were held to open discussion of the events on campus and discuss responses. These were very successful, seeing huge turnouts and welcoming the attendance of various administrators.
The administration did reach out to student groups to hear their ideas and concerns. On February 27, 2012, over a month before the CGSA proposal, Dean Elmore attended a town meeting, titled CGSA and Dean Elmore: Rape Culture at BU. This was live-streamed on the CGSA web site.
Newton, who is a member of the Center, says that they also received an overwhelming amount of support from alumni and outsiders. "It goes to show that it wasn't just students that wanted this to happen, it was even bigger," she says.
In combination with the final proposal, the CGSA had organized an internationally-circulated petition via Change.org, which received around 1,300 signatures. The Center gained the support of the Student Union in a resolution and planned a Take Back the Night event on campus in correspondence with President Brown. The Center spoke with experts within the faculty and staff at BU to better understand the crisis response services that had been available to students at the time.
As the proposal points out, "of our 13 peer institutions, 9 have university-sanctioned interpersonal violence centers, and of those 9 programs, 5 have physical spaces dedicated to counseling and preventative programming." The proposal goes on to outline three impressive, role-model centers at Harvard, Northwestern, and Syracuse. Pointing to how BU's peers are doing it better is definitely a convincing point from BU administration's point of view, if any convincing was needed.
Now, SARP has collaborated with the CGSA to teach an FY101 class in the College of Arts and Sciences on consent and support to victims of sexual assault. Six staff members with an unbelievable amount of expertise assist students in SARP 9 a.m. – 5 p.m. every weekday at 930 Comm Ave, but the crisis hotline is available 24/7 for students in distress.
What may be a result of the media's hand in SARP's opening is the evident focus on specifically sexual assault, rather than the numerous other services to which SARP gives equal attention. The term "sexual assault" is even in the name of the center, although the proposal sent by the CGSA simply named the potential space an Assault Response and Prevention Services Office (ARPS). "I think it would be difficult to find a name that pleases everyone and encompasses all we do," says Director Maureen Mahoney. SARP is certainly not only for sexual assault victims; it is for students recovering from any kind of traumatic event.
As Merriman points out, "the health of our interpersonal relationships is often not good, not just in this campus but in college." The University is working to encourage students to simply get help that they need. Whether it is alienation, abuse at home, domestic violence, discrimination, depression, or one of the countless other ways living on a college campus can affect students' health, BU is constantly working to improve its role in students' lives and assist their needs.
Whatever the reasons were for the opening of SARP, or the steps needed to make the proposal come to fruition, this center is an enormous benefit to the health of the BU community.