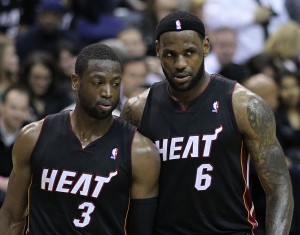 At the end of the 2011-12 NBA season, the Miami Heat looked like not only the best team in the league, but also a dynasty in the vein of Bird's Celtics or Kobe's Lakers. LeBron James finally shook the monkey off his back, playing like a hybrid cross between Magic Johnson and Michael Jordan. He was a juggernaut on both sides of the court and is widely the best player on either team at all times.
Even while Dwyane Wade and Chris Bosh are hampered by injuries and a less-than-stellar supporting cast, Miami embarrassed Oklahoma City in the Finals, snapping off four wins in a row after dropping Game One. LeBron took home the MVP and the rest of the league collectively shuddered at the prospect of competing with Miami for the next several years.
With a line-up that's largely the same, even improved by the additions of Ray Allen and Rashard Lewis, the question heading into this season is which team can steal the title away from Miami. The most successful teams against the Heat last year were able to exploit Miami's lack of height and weakness at the point guard position. Though small in the front-court, Miami can get to the rim easily to get lay-ups or draw fouls.
To beat Miami, rim protection is key, as they are much less dangerous when taking mid-range jumpers or three pointers. One or several lockdown defenders are needed, and most importantly someone who has the speed to bother LeBron or the size to prevent a physical mismatch. Teams with a dominant big man or elite point guard did well in exploiting Miami's lack of a true center and inexperience at the point guard position. With enough offensive firepower, teams might have a shot by forcing LeBron to overcompensate for his teammates while matching him shot for shot and hoping he wears down. Taking all this into account, it seems like there are only a handful of teams that have a shot at dethroning Miami.
The obvious frontrunner is Oklahoma City. With another year of experience under their belts, one of the league's youngest teams can rival Miami offensively while providing unique problems for them on the defensive side. OKC alternated between Thabo Sefolosha's quickness and aggression and Serge Ibaka's strength and size while guarding LeBron last year. Centers Kendrick Perkins and Nick Collison have to play big and play smart to compensate for any flaws. The Thunder can't survive Perkins constantly getting into foul trouble again and won't have enough on offense if James Harden goes cold once more. But with their youth and the offensive brilliance of Kevin Durant and Russell Westbrook, Oklahoma City seems like the strongest contender to stay with Miami in the Finals.
With the additions of Dwight Howard and Steve Nash, the Los Angeles Lakers possess a starting five to rival Miami's. On paper, they seem ideally constructed to beat Miami. World Peace historically gives LeBron problems, Nash against Mario Chalmers is a mismatch, and Dwight Howard will protect the rim while creating huge problems when posting up or off the pick and roll. The biggest question about the Lakers regards their depth and age. It remains to be seen whether Kobe, Nash, and Gasol, with a combined 43 seasons between them, can still defend at an elite level or go an entire season uninjured. When the starting five sits, LA will hurt on both sides of the ball unless several young players make tremendous leaps forward. Barring a few mid-season pickups, the Lakers look scary and too ill-equipped to take home another title.
The San Antonio Spurs seemed borderline transcendent at times last year, all while executing coach Gregg Popvich's innovative offensive and defensive schemes with seamless teamwork and ball movement. Blending veteran leadership and talented youth, San Antonio seemed to be cruising to a title before inexplicably faltering against OKC. Their line-up this year remains almost exactly the same, but it's unclear whether the Spurs have enough left in the tank to do it again. Tim Duncan is 36; Manu Ginobili is 35; Tony Parker is 30. It hasn't started yet, but could this be the year that San Antonio's core finally shows its age?
In the Eastern Conference, there are too many question marks surrounding any team that could seriously challenge Miami. Noted rival Boston has an aging nucleus and no answer for LeBron, gutting out wins against Miami last year based on the sheer tenacity of Pierce, Rondo, and Garnett. A Miami team in its third year playing together will no longer be intimidated by Boston. In Chicago, Derrick Rose is still on the mend and the loss of center Omer Asik will deal a major blow to the interior defense. The much-improved Brooklyn Nets are intriguing, offensively loaded even to the ninth man and showing preseason frontcourt dominance from Brook Lopez and Andray Blatche. Yet with all the new faces, this team will take at least a year to gel into a legitimate contender.
It's very possible for Miami to avoid repeating in the 2012-13 season due to the injury bug. LeBron's post-season dominance could turn out to be a fluke. Dueling egos amongst the Big Three could derail team chemistry. But at this point in time, Miami has too much talent and too much experience to not be considered the clear favorite. Before last season, critics started to question LeBron's place in history–would he go down as a supremely talented choker or one of the all-time greats? A repeat win would take a major step toward cementing his legacy, validating the unprecedented hype he's received since coming into the league in 2003 at 19 years old. On his back, can Miami stand head and shoulders above the league once again? Can anybody beat the Heat?