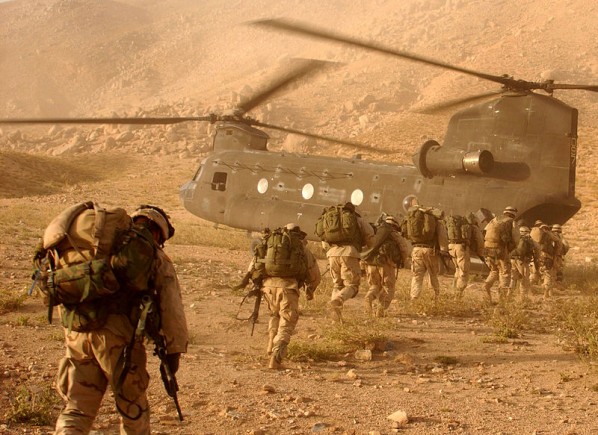 After 11 years of chasing terrorists and trying to instill American visions of society in Afghanistan, many people cannot wait for the United States' scheduled withdrawal in 2014.
However, not everyone agrees that the U.S.' work in Afghanistan will be fulfilled by 2014. A week ago, NPR published a story about a series of portraits by Ashlei Quinones of veterans from the wars in Iraq and Afghanistan. Along with the portraits were short letters the soldiers wrote about their experiences.
Most of the veterans thanked God for their families and emphasized how lucky Americans are for living where they do; it is what would be expected from someone who has risked everything in service of their country.
But army veteran Sean M. Murphy talked about something else. He starts his letter, "If I could tell the American people one thing, it is 'please stop thinking of this as a war.'"
He goes on to explain that he views the U.S. involvement in Afghanistan as an attempt to build a relationship with the Afghan nation. As such, he says it should be ongoing.
"When will it end? It shouldn't. If we do this right, we will develop an open ended relationship with the Afghan people that will be just as important as our relationship with England, Germany, Japan or Korea," he said. "The fighting will stop when the Afghan people see a real benefit to having a relationship with the western world and start to view themselves as a nation."
Stephen Kinzer, Professor of International Relations at Boston University and an expert on American intervention in other countries, does not totally agree. He said comparing Afghanistan to countries like Germany and Japan is problematic. According to him, countries get along when they have similar goals and societies, like the U.S. and Japan, but unlike the U.S. and Afghanistan.
Another part of Murphy's argument is that we owe it to the Afghan people to help them after our failure to do so after the Soviet invasion of Afghanistan in the 1980s. Throughout the Afghan-Soviet conflict, the U.S. pumped billions of dollars into Pakistan to help fight against the Soviets and pro-Soviet Afghans.
However, once the Red Army withdrew from Afghanistan, the U.S. lost interest in the country and left its inhabitants to rebuild the country by themselves. Murphy is concerned that leaving the country now would be a repetition of previous mistakes.
Kinzer thinks letting this fear drive the U.S.' actions would be a mistake.
"I certainly agree that we have incurred a huge moral debt to…Afghanistan," he said. "…Once the Soviets were gone, we should have remained engaged in Afghanistan. We should not have abandoned Afghanistan…. Nonetheless, the challenge here is not to reflect back on what should have been done."
He also criticized the U.S.' use of the military as a mechanism for foreign policy, but said developmental agencies and non-governmental organizations would be better suited to help the Afghan nation rebuild itself.
"I don't like the over-militarization of foreign projects…I don't want to see that remain the paradigm for the United States and Afghanistan," he said. "…Over the long run, it would be wonderful if we could develop a civilian approach of development in Afghanistan."
Such an approach would allow the U.S. to transform its image in Afghanistan, which Kinzer said right now is dominated by the military.
"I think we've greatly undervalued the importance of regional cooperation there," he said.
Getting rid of the U.S.' military presence would also better allow local conflicts to be resolved.
"Once foreign troops are gone, local factions have a chance to work out their differences," Kinzer said. "Sometimes that's called war," he added, but he said even that is better than foreign intervention.