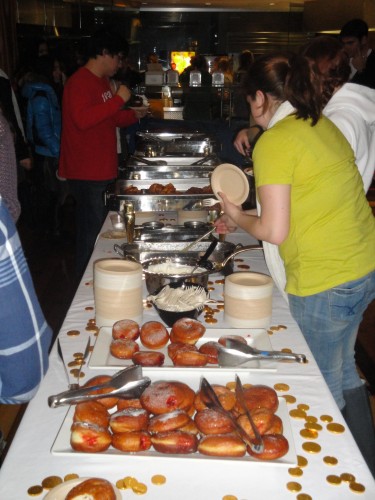 House party? How about a Hillel House party?
BU's Jewish life center is making preparations for Hanukkah, which begins this Saturday and is celebrated through Sunday, Dec. 16. Aside from the traditional celebrations, the center will host "Latkepalooza," a student-run celebration on Tuesday night.
The entirely free event will include Jewish food like it's namesake latkes (potato pancakes) and sufganiot (jelly doughnuts), as well as activities like dreidel games and a DJ for dancing. Last year, over 400 students attended, and the Hillel served approximately three thousand latkes, according to Lauren Shuman Perry, Director of Student Activities.
Julia Brandeis (SAR '14), VP of Outreach at Hillel and Freshman Council leader, is in charge of planning Latkepalooza, and also adds that there will be a Gift of Life Bone Marrow Drive at the event, where guests can get their cheeks swabbed and recorded in a national registry.
"If you're a match, [the organization will] contact you and ask you if you want to donate bone marrow," Brandeis said of the drive, which is a returning aspect of Latkepalooza from last year.
Hillel will also host more traditional celebrations of Hanukkah during the week. A large menorah will be displayed in Marsh Plaza, where it will be lit every night of holy week at approximately 5:50 p.m. with student prayer and gathering. Hillel House will also provide individual menorahs for the BU community at the center, according to Perry.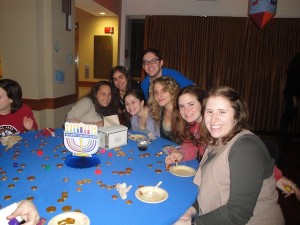 Since Hanukkah falls before Winter break, many students will not be celebrating the holiday with their families, like Shoshana Koff (COM '16), a California native. While she looks forward to the celebrations at BU, spending the holiday without her parents and siblings at her side makes it seem a little less significant.
"I'll go to Latkepalooza and I'll probably go to Hillel for a night but it's different than being at home with my family and lighting candles with them," Koff said.
Spencer Weiss (CAS '16) also acknowledges the change as a freshman at BU.
"I plan on lighting every night at the Hillel [and look forward to it]…even though the experience will be very different than that of lighting with my family," Weiss said. "I look forward to the idea of Hannukah just cause its a constant reminder to the Jewish people that even when all hope appears to be lost, God is always there."
Perry calls the holiday a "happy, energetic, and positive time" at BU.
"[Students have] grown up and they've been doing the same thing year after year," said Perry. "This is a chance for them to share their individual family traditions and culture with everyone else [at BU] and learn about other people's that have done it differently."
Brandeis recalls spending Hanukkah at BU for the first time and encourages freshmen to attend Hillel's celebrations and "welcoming community".
"[Spending Hanukkah away from home] was a big adjustment but I put myself out there and went to all the Hillel events and I ended up meeting some of my best friends to this day because of them," said Brandeis. "I kinda took that leap of faith."
Latkepalooza kicks of on Tuesday, Dec. 11 at 5 p.m. at Hillel House and everyone in the BU community is welcome. If you are interested in other Hanukkah celebrations across campus, check out the Hillel House calendar of events.