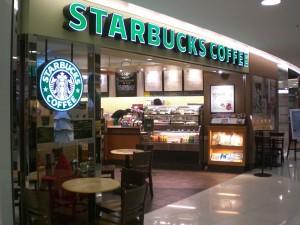 As if Starbucks wasn't called uppity, pretentious, pompous, or grossly expensive enough, the chain just released their priciest cup of coffee yet: the $7 Costa Rica Finca Palmilera. Drop $40, and you can get an entire half-pound bag!
So why the price jump? This new brew is a special bean, also called "Geisha," which is famously both hard to find and unique in flavor. It has been described as herbal, vibrant, clean, and tropical. The Seattle Post-Intelligencer reported that an online store of Geisha sold out within 24 hours.
Starbucks CEO Howard Schultz explains to the Wall Street Journal that the company had introduced these "reserve" types of coffee bean to select stores, coupled with the famous Clover machine, which brews the highest quality coffee. These specialties are available for limited times and are very unique and hard to find. For now, Geisha is only sold in 48 stores in the Pacific Northwest.
"To be honest with you," he stated in an interview with the Wall Street Journal, "I've been stunned to see how many people are interested in the $7 cup of coffee, and how many people are coming back primarily because of the unique taste and profile."
On the other hand, news stations and coffee aficionados went into overdrive looking into what's really behind this grossly expensive morning jolt, which costs over three times as much as the "regular."
CEO of Blue Bottle Coffee James Freeman claims that "the 16-ounce cup should just cost one dollar more than a regular cup of coffee, including the company's overhead." However, his chain also sells the $7 cup, and he states that an 80% markup is standard for these high-end brewers. In fact, $7 cups are not overheard of; Café Grumpy of New York sold a $12 cup of a rare Ethiopian bean.
In an apparent battle to see who will pay the most for their caffeine, Starbucks itself has been kicking up the prices of high-end roasters for years. To a "regular" coffee drinker, this may seem superfluous because the coffee seems nothing special – burnt, even. However, Starbucks has shown competitors that the real coffee drinkers are willing to give those extra dollars for that extra goodness. Small, intimate, specialized brewers have been popping up everywhere and threatening competition to the largest coffeehouse company in the world, which runs over 20,300 stores in 61 countries.
Just when, we were starting to appreciate the care and expertise with which the brand selects its specialized beans, Starbucks came out with the "metal card." Price: $450.
That's right, it's a Starbucks card for the super rich, super pretentious, and super caffeinated. This card is made entirely out of stainless steel, loaded with both $400 to spend, and includes a Gold Card membership (normally gained by making 30 transactions within a year). Only 5,000 cards were made and went on sale December 7.
Although the brand expects a whopping one in 10 Americans to receive a Starbucks card this season, this mode of payment seems a little extravagant. Starbucks spokeswoman Linda Mills reported to the Boston Herald, "this is a handcrafted card made in America." This is a little peculiar, since the chain doesn't use "Made in America" products for the billions of disposable paper cups Starbucks uses in a year. Converting to American labor and materials for what people are really going to buy seems a little more worthwhile.