The past few weeks have passed in a blur of caffeine, exhaustion, and highlighted text. Classes are drawing to a close, and brains are throbbing as students attempt to stuff ever-increasing amounts of information into their sore craniums. Somewhere, an inadvertent napper is jerking awake at his desk with the outline of his homework pressed into the skin of his cheek. A writer sucks down her third triple-shot latte of the day and pounds out another hundred words, heading ever closer to that seemingly impossible magic number of words that the professor will accept as a bare minimum.
Amidst finals stress, it is easy to forget that reading is not always about dissecting the motives of the founding fathers, reimagining a classic Dickens to illustrate gender roles, or understanding the difference between Islam in Turkey and in Saudi Arabia. So after finals are done, after you take a day to sleep off the residual energy-drink jitters, take up one of the incredible books mentioned on this list to escape from reality and head somewhere new.
1. Best Overall: The Fault in Our Stars by John Green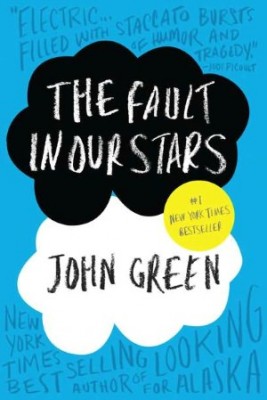 If you only read one new book this year, read this one. The Fault in Our Stars has gotten accolades from everywhere–the New York Times, NPR, the Wall Street Journal, and Indiebound are just a few that consider it one of the best books of the year. John Green has an almost obsessive fandom following his every move, and this writer believes his reputation is completely deserved. The Fault In Our Stars (or TFIOS, as it is often called by loving Internet fans) is "the story of Hazel Lancaster and Augustus Walters, two kids that meet at a Cancer Support Group." The magic of this book is that it is not a cancer book. It is a book about a character that happens to have cancer. Fair warning: TFIOS induces extreme laughter and tears, as well as fury, enchantment, and enduring adoration. Reading it in public is a bad idea, unless you want to be bombarded with fellow book-lovers who want to talk ad-nauseum about the wonder of this book. After reading, check out the comments on John Green's website to restore your faith in humanity.
2. Best Historical Biography: Team of Rivals by Doris Kearns Goodwin 
2k12 has been a great year for Lincoln. He was immortalized in film (again) and was the subject of several books, including Bill O'Reilly's Killing Lincoln.  Goodwin's analysis of Lincoln's life is different from the plethora of Lincoln biographies out there because she focuses specifically on how Lincoln brought together a Cabinet of former rivals to become one of the most formidable teams of men in American history. If you're in need of a role model this Christmas season, this is the book for you.
3. Best Modern (Auto)biography – Roll Me Up and Smoke Me When I Die by Willie Nelson 
Perhaps best known amongst the Internet savvy as the only man tough enough to out-smoke Snoop Lion, Willie Nelson is a music paragon. He's recorded over a hundred albums, been inducted into several halls of fame, and received a Grammy Lifetime Achievement Award in 2000. In this tome, Nelson and friends collect authentic journal entries jotted down on the road and compile them into one majestic volume. By all accounts, this autobiography is a funny, insightful look into Nelson's rollicking lifestyle.
3. Best Comic Book: Saga, Volume 1 by Brian K. Vaughn and Fiona Staples
Recommended by The Quad's very own Jon Christianson, Saga has everything one could want in a winter-break comic book. As Jon writes, this comic has "badass lady heroes, people of color, limitless imagination, commentary on social issues, and some of the most beautiful art I've ever seen." It is the story of two star-crossed lovers who manage to find each other while both are prisoners of war. In space. How can you resist?
4. Best Fiction Novel – NW by Zadie Smith
The competition for this category was tough, obviously. Other contenders, such as Gone Girl by Gillian Flynn and Beautiful Ruins by Jess Walter, were close runners-up. But NW is special. Smith's deftly woven narrative centers on four characters, all who grew up in the same housing project in London. Each part of the book features a different character, and through them Smith confronts issues of time and death. The characters are relatable, if not always likeable, and each one offers a different facet of the same question: what do we do with the time we have? This book might be a bit much for graduating seniors–it could cause some serious anxiety about post-graduate life.
5. Best Give-It-Away Book: Building Stories by Chris Ware
This book is a wonder. It comes in a box and consists of painstaking composed pamphlets, a flipbook, news sheets, magazines, all spliced together in such a way to reflect the carefully structured narrative composed over a decade by Ware. It focuses on a group of apartments in modern-day Chicago and illuminates the contradictory solitude and togetherness that characterizes city-life. A chaotic presentation echoes the story, which refuses to be ordered neatly.
There you go, students! A fine selection of excellent books in which to hide away after the stress of finals. For now, pick up that highlighter one last time, turn just one more page in that textbook, open up just one more set of slides. Happy holidays, everybody.