Contributions by Jon Giardiello and Asta Thrastardottir
In a year in which countless critics announced the death of film culture as we know it, 2012 was a comparatively strong year for movies, with strong entries from genres as diverse as superhero movies to documentaries to indie dramas to big Hollywood films which can all be watched on legitimate sites such as https://123gofmovies.com/. Though the following list is far from complete, as follows is ten of the best from 2012, in no particular order.
Silver Linings Playbook
It seems odd to think of a movie whose two main characters suffer from mental illness and that contains as many scenes of anguish and heartbreak as a romantic comedy, but Silver Linings Playbook is just that. Awkward plot devices aside, David O. Russell's movie treads a slippery slope but manages to preserve the integrity of its characters and their relationships while still letting us laugh at them – no small task considering that Pat (Bradley Cooper) is prone to violent bipolar episodes. The work of the cast, especially Jennifer Lawrence (a shoo-in for a Best Actress nomination), is fearlessly quirky and true-to-life, a superb snapshot of suburban Philadelphia, its inhabitants, and their neuroses.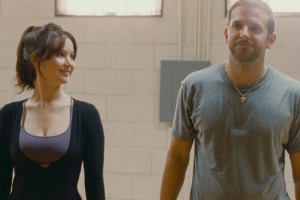 Take This Waltz
Take This Waltz is the type of movie that tries to focus on and examine real human conflicts and feelings on an intimate scale, and thanks in large part to stunning work by Michelle Williams, it mostly succeeds. Williams as Margot is happily married to Lou (Seth Rogen) when a new neighbor that tests her fidelity moves into their humble Toronto neighborhood.  Director Sarah Polley fills Take This Waltz with all the small nuances and details of a real romantic relationship and its gradual unraveling. The result is a measured yet powerful consideration of love and marriage between two (or three) flawed people.
The Avengers
The Avengers might be the least emotionally complex movie on this list, it might have the least to say about humans and the contemporary world, but you would be hard pressed to find a big, fun superhero movie that hits all the right notes as effortlessly as this one. Director Joss Whedon manages to satisfy the comic book devotees as well as the casual fans while also giving every character their due. Holes can be easily poked in the plot (as with any story whose main threat is a horde of magically appearing, shape-shifting aliens) but if more blockbusters were made with this enthusiasm and skill, perhaps laments for the death of film might not seem so accurate.
The Master
It's been three months since The Master's premiere, and as much as its meaning and themes remain elusive, the performances of Joaquin Phoenix and Philip Seymour Hoffman and the uncomfortably riveting atmosphere of the movie still feel recent. Perhaps director Paul Thomas Anderson could have reigned in the movie a tad–it tackles topics like religion, alcoholism, identity, friendship, war, romance, and power without giving a clear, identifiable stance on any. While making the film that much more opaque and intriguing, it takes away any emotional anchor and instead leaves the audience to marvel at the performances. The Master won't go down as Anderson's best, but it's definitely a worthy entry into the canon of one of our greatest modern filmmakers.
Argo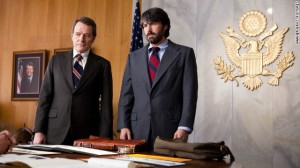 Sometimes following a tried-and-true Hollywood formula and executing well is enough. Ben Affleck's Argo is a heist movie masquerading as historical drama but has more tension and empathy for its characters than less successful films in the genre. The pacing is masterful, the historical details scarily accurate, and the performances fantastic, though Affleck himself in the lead role could be a bit more evocative. It probably seemed inconceivable as recently as a decade ago, but with Gone Baby Gone, The Town, and now Argo, Affleck is making a strong case for being one of this generation's best directors.
Moonrise Kingdom
Rushmore and The Darjeeling Limited director Wes Anderson's newest creation tells the charming tale of two young lovers on the lam. Moonrise Kingdom centers around 12-year-old Khaki Scout Sam Shakusky (Jared Gilman) and his love interest Suzy Bishop (Kara Haywar). Bill Murray, a staple character in Anderson films, appears in his sixth collaboration with the director, along with Jason Schwartzman, another reoccurring actor in his films. The cast is also packed with big names such as Edward Norton, Bruce Willis and Frances McDormand. Set on the idyllic New England coast in 1965, the film is a tribute to the storybook childhood experience. Filled with sweet nostalgia, Moonrise Kingdom is truly a children's tale for adults.
The Invisible War
This movie was screened on campus earlier this semester.
Kirby Dick's investigative documentary The Invisible War exposes the horrific accounts of sexual assault in the military. Told from an anecdotal perspective, the film focuses on a few courageous women and their tragic stories, including Kori Circoa of the Coast Guard, who is still suffering medical injuries from when her attacker struck her across the face leaving her with a dislocated jaw. The film documents the Department of Veterans Affairs' refusal to treat her and the class-action suit filed by her and other victims, in which the charges were dismissed because rape was deemed an "occupational hazard" of the army. Although a hard film to watch, The Invisible War is an eye-opening account of one the country's most shameful secrets. The film premiered at Sundance in January and received the Audience Award.
Lincoln
Stephen Spielberg's powerful drama Lincoln tells the story behind the beloved 16th president (played by Daniel Day-Lewis). The historical drama is not a dry old tale but instead an inspiring, humor-filled account of one of the country's greatest political achievements. Day-Lewis presents a new, humanistic perspective of the famed president as a lovable, sweet man who chuckles at his own jokes. Tommy Lee Jones almost steals the show from Day-Lewis with his portrayal of Thaddeus Stevens, a witty, wig-wearing, radical Republican. A trio of lobbyists played by James Spader, Tim Blake Nelson, and John Hawkes present hilarious comic relief as they pull out every dirty trick they can muster to gain votes for Lincoln.
Holy Motors
Leos Carax is well known for making films that challenge the notions of how people on the fringe of society really live. His last film was done back in the 1990s, Lovers on the Bridge, which presented a romantic picture of a disorientated blinding painter and a homeless vagabond; they sleep on an abandoned bridge during the day and explored the city through refreshing eyes at night.
Holy Motors, on the other hand, takes on an even more surreal perspective, challenging the socially constructed idea of how humans live. Monsieur Oscar is one man who represents many different personas in one day; he is deranged sewer rat, an aged and dying man, a caretaker of chimpanzees, etc. M. Oscar traverses his day with a dedicated but mysterious limo driver, Celine (Edith Scob), who keeps the viewer in tune with his human suffering. The film presents a look into the creative capacity of his unique life. This French fantasy film is so surreal that how all the bizarre aspects of the film come together into a beautiful and breathtaking masterpiece is up to the viewer to discover.
Ted
Say what you want; Ted was hilarious. The film is everything you would expect from Seth MacFarlane's debut film (he's the creator of Family Guy): crude and a little sexist. It may not have been intellectually stimulating or in good taste, but this film about a vulgar teddy bear was extremely amusing. The film follows an extremely predictable plot and sizzles out a bit in the end but Ted manages to play a well-rounded character that you begin to sympathize with. Ted is crude but brilliant at times, and based purely on entertainment sake is worth seeing.