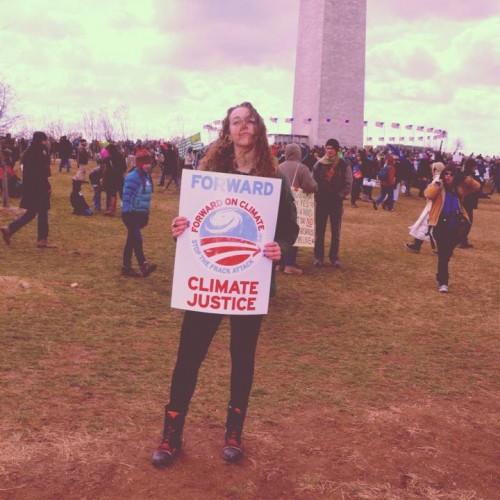 The argument over whether to allow the building of the Keystone XL Pipeline, which would carry oil from tar sands in Alberta, Canada to a refinery in the Gulf of Mexico, has created enough of a stir to become a central part of last Sunday's Forward on Climate rally in Washington, D.C..
But Ben Thompson, founder of Divest BU and an active member of 350MA, said the focus of the rally was not necessarily the pipeline. He said the rally was more significant as a way to show the growth of the movement to combat climate change.
"In the past couple months, this movement has been building quite a bit," he said. "I think this rally was an opportunity to capitalize on that momentum, to send a message to Washington and also to further build that momentum."
The name, Forward on Climate, is a reference to President Obama's campaign slogan, "Forward," and was just as much about pushing the president to put his rhetoric to action. In his inaugural address, Obama said he would, "respond to the threat of climate change, knowing that failure to do so would betray our children and future generations."
Thompson said he expected somewhere from 20,000 to 25,000 protesters to be at the rally. Instead, various news outlets reported that organizers counted 35,000, and Thompson said he heard as many as 50,000 people showed up.
He said it was good to see so many people out to fight climate change, and that it was impactful for those at the protest to see each other and realize how much of a movement there is. That is what Thompson said he thinks will have the most impact.
"We can't stop climate change one pipeline at a time. Stopping Keystone is not going to stop climate change," he said. "The only way we're going to stop climate change is by building a movement."
That being said, Thompson is among those who think stopping the pipeline from being built is an important step in stopping climate change. They argue that tar sands oil is heavier than conventional oil, and it doesn't float, meaning a spill would be much harder, if not impossible, to clean up. They also point to the fact that it takes more energy to extract tar sands oil, which makes it more carbon-intensive than oil extracted using conventional methods.
At least one study of tar sands oil and its extraction showed it emits 14-20% more greenhouse gas than traditional crude. However, both sides of the argument have laid claim to those numbers, saying their high or low depending on what they are arguing.
Those in favor of the Keystone XL pipeline say that even if the United States decides not to tap into the new source of oil, some other country will. Since the US started showing signs of hesitation, Canada has opened themselves up to building a westerly pipeline and selling the oil to China or some other Asian country. As Thompson pointed out, there is also opposition to a western pipeline, but advocates of the pipeline counter that the demand for oil is high enough, and it's only a matter of time before Canada finds a place for its supply.
It's hard to tell what the president and other members of the government will decide to do about the Keystone XL pipeline, and although Ben Thompson hopes the Forward on Climate rally will make them opt out on the pipeline, he also hopes the rally will have an effect on the people involved in it.
"What I'm hoping will happen is those 50,000 people are all going to go home, and they're all going to tell all their family and tell their friends about why they went to Washington," he said. "We are trying to excite people and motivate people and build a movement so that we can accomplish things that are life and death."