During the summer of 1969, the Woodstock Music & Arts Fair first took the stage in Bethel, New York, for what has become one of the most defining moments in music history. Now, in 2013, there are hundreds of music festivals that take the stage year-round in the United States. Countless artists perform at these festivals, while thousands upon thousands of grueling fans attend, rain or shine, to experience the music and the Woodstock-esque atmosphere that sweeps the crowd.
Over the past several decades, the rise in the popularity of music festivals around the world is uncanny. Instead of just going to see one of their favorite artists or bands, people have the opportunity to see hundreds. Here in the U.S., some of the most well-known festivals include Bonnaroo, Coachella, Lollapolooza, Electric Daisy Carnival, Camp Bisco, Governor's Ball, Austin City Limits, Ultra Music Festival, and even up-and-comers like the Firefly Music Festival (and these are just to name a few).
Fans shell out several hundred dollars per festival to spend (usually) three days camping out with friends in giant fields and enjoying food, drinks, music, and lack of hygiene all together.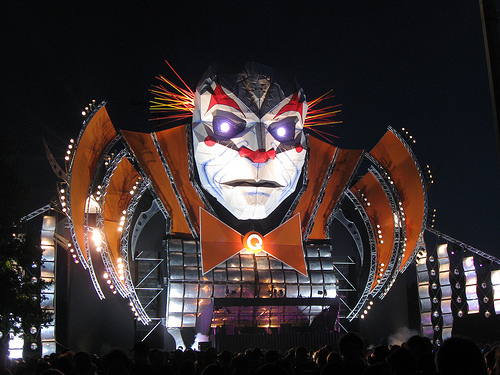 The same trend is all over Europe as well, spreading the same fervor to the festivals, arising and gaining even more popularity just like here in the States. Perhaps one of the most famous ones, Tommorrowland, is set in Belgium, where over 180,000 fans flocked together last summer to experience this event. Luckily, for those of us who are not able to make the trek to Europe, the creators of Tomorrowland plan on expanding their locations around the globe, with one coming to the U.S. within the next several years.
It's clear that all of these festivals have skyrocketed in popularity within the past few years especially, but the question remains, why? What about this experience makes it so trendy and worthwhile? One can argue that it's a fad; everyone flocks to it with a sudden spike in popularity, before one day something new and betters pops up, and everyone leaves to move onto the next trend (much like Instagram, Twitter, and Snapchat for our Internet-technology-loving generation).
But I think it's more than that. While to some it may in fact just be a fad, to many of those who are die-hard about this, it's about the experience and memories and the collective feeling of everyone belonging to the same moment together in time. In those moments, people remain untouchable; their lives and problems back at home are out of sight and out of mind.
Joanna Dunn (SAR '14) has attended several music festivals during summers in New York. She describes the experience by saying that, "the ambience of a festival compared to an individual concert is that it's an experience with people–opposed to just listening to the music."
Our generation seems to be resurrecting a Woodstock-like mindset, and it doesn't look like this will be dying down anytime soon. These festivals are a part of our culture, and regardless of any person's music preference, they should be experienced by all.