Venice, Italy is often referred to as the sinking city. A mercantile island originally intended to provide refuge from invaders, the city flourished in a location where no one would have planned a settlement.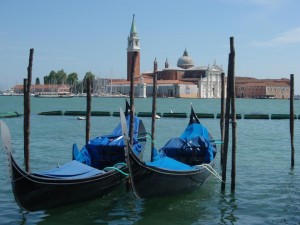 According to NOVA, a PBS program, when Venice was originally settled, sea level was more than six feet lower than it is today. Venetians have been unable to live in ground floor apartments for decades, because they never know when a high tide could flood the city.
As Professor Jodi Cranston of Boston University's Department of Art History put it, Venice may have never been meant to last. Despite that, the city is working fervently to save itself through a variety of projects, from building and art restoration to creating massive floodgates to prevent high tides from flooding the city.
Why put so much effort into saving a city seemingly destined to disappear? Several scholars working with the non-profit organization Save Venice, Inc. tackled that question Tuesday night. The event, hosted at Boston University's College of Arts and Sciences, offered facts about Venice's plight and opinions on why the city is worth saving from a watery grave.
According to its website, Save Venice was founded in Boston in 1971. It was formed in reaction to horrible flooding in the city of Venice in 1966, which damaged many works throughout the city. In the 1980s the headquarters was relocated in New York, but the Boston Chapter is still active.
Save Venice President Frederich Ilchman was one of the speakers Tuesday night. Ilchman, a curator at Boston's Museum of Fine Arts, said that Save Venice is a product of a "long admiration of Bostonians for Venice." He said both Boston and Venice were mercantile cities that are centers of history and culture in their own ways, and that these parallels fuel the interest in restoring Venice. The Boston chapter of Save Venice is run by volunteers and donations, so all members have a vested personal interest in saving the city.
"In Boston we have a concentration of human capital," he said.
Save Venice spends around $1 million on restoration work in the Italian city each year. The organization is not involved in engineering projects like the floodgates, but instead they focus on restoring the medieval and renaissance artwork and architecture to its original glory.
Ilchman said one of the things Save Venice provides for the city that government is the ability to cut a quick check. The funds are not tied up in bureaucracy so when a work needs quick restoration to be saved, Save Venice can work more efficiently than government organizations.
Ilchman also emphasized that Save Venice encourages people to get personally involved with the city, like he does.
"My heart is in that city," he said during his speech. He went on to explain how a little can go a long way.
"An individual can make a big difference," he said.
He encouraged students to get involved to travel, to study abroad, and to inform themselves about international issues. Save Venice offers a student membership and has a young friends group that brings young people on museum trips, lectures, and other events.
"This is so important…realizing many things are connected in a much bigger dialogue," he said.
But back to the original question. Why save Venice?
Suffolk University professor and lifelong Venetian Matteo Casini offered his take.
He explained how Venice is becoming a center for modern art, creating a bridge between the old and new. He believes Venice contains a mix of cultures that are unique, and that's why it's so important to save it.
"To save Venice," he began, "we must not think of her as a dying city…we must learn, think…to see her as a living organism with a beating heart."
Student memberships for Save Venice, Inc cost $50 per year. For more information about Save Venice, Inc, visit the Boston Chapter website.