Roblog is a weekly column dedicated to understanding the world of robotics. If science fiction comes true and an impending robot apocalypse is real, it can't hurt to be prepared. Come back every Thursday for a new blog of robot rants.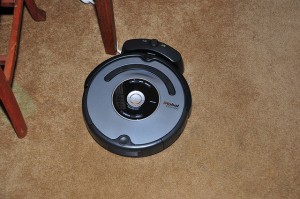 It's pretty standard for people to keep robots in their own homes. While they aren't yet completely ubiquitous, we welcome robots into our homes in the form of toys and vacuums without question. It's odd though, because the list really does seem to end about there. Children's toys that rely on robotics for both entertainment and education are becoming more popular and more easily accessible. Robot vacuums, too, are so popular that the Roomba has even earned itself a name in popular television.
There are a selection of other household bots that can be purchased and owned for a reasonable cost, but they all look and perform like vacuums. Small pods that are low to the ground and zip about in patterned fashions, our domestic helpers are currently delegated to vacuuming, mopping, sweeping and mowing.
Of course the best known of these is the Roomba, but there is actually some competition amongst the autonomous vacuum manufacturers. Roomba, made by iRobot, now comes in several designs and has been through many versions of improvements. The basic model is just under $400, but there's a fancier version, complete with a wireless command center to control the robot from anywhere in the home. Samsung also has a vacuum, called the Smart Tango, which makes incremental improvements on the Roomba by including pop-out brushes for cleaning corners. It's possible that some of the less well-known vacuums might be even more exciting, like the Neato Robotics XV that takes on an industry-innovative square shape to better clean corners. It also features a USB port for downloading updates to the machine. Even Dyson claims to be working on a robot vacuum. Incremental improvements are what drive the home robot industry.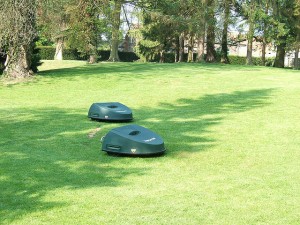 Other floor hugging house tools have also joined the autonomous robot race. The Indego lawn mower, made by Bosch, for example, is nearly as autonomous as a Roomba, requiring only a line installed around the perimeter of the lawn for it to mow the lawn completely on its own. Even Honda took something of a step back to develop the Honda Miimo, a similarly behaved robot that Honda boasts is considerate of a lawn's health.
The list goes on, but remains unfortunately unremarkable. There are pool sweeping robots, gutter cleaning robots, floor mopping robots and even some for sweeping litter boxes. What there is not, however, is much innovation. These robots clean passably well, but they don't have the real elbow grease that a good hand scrubbing can give. They save time on the mundane chores that no one likes, but they are often incredibly expensive.
It might seem that the reason these are the only robots we have in our homes is because these are the only robot technologies that exist. However, there are robots doing surgery and robots using tools, driving cars and teaching children, while all the domestic bots can do is clean floors. It would be nice to see some of the same innovation that goes into cutting edge medical robot research be put into units that could improve our lives every day more than just marginally.
What about a robot that folds laundry or collects mail in the morning? We could have smart refrigerators that keep track of the items in them and perform self-cleaning functions. Possibly someone might enjoy a robot that plays fetch with the dog while they're on the phone. The possibilities truly are endless.
Now that domestic robots are becoming more popular, the near future should be exciting. I, for one, am hoping for a robot shelving system that stores things neatly and can present me with things without me having to look or reach for them. If we are going to welcome robots into our lives and our homes, we should expect them to work for it, and work hard. It's the dawn of the robot revolution, whether we like it or not, and it would be great to see that technology put to use in more innovative ways than a handful of iterations on the vacuum.