Everyone loves new clothes, but it usually comes at a cost. While the cost usually is monetary, it can also be environmental. On Wednesday evening, Taylor McVay, a local clothing maker and designer, held a tutorial in which she spoke about sustainable fashion and the environmental impact of constantly hitting the department store.
McVay lectured on the concept of "fast fashion," something for which clothing brands such as Zara are known. Since the industrial revolution, the lifespan of clothing has been shrinking steadily as low prices for fashionable pieces drives consumption. This spike in consumption of the average American shopper creates 68 pounds of clothing waste per year.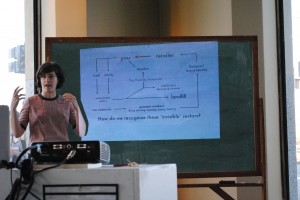 Most people do not think about their interaction with clothing from start to finish. The raw materials it takes to produce a t-shirt can create poor working conditions and even pollution. Most of the clothes thrown away end up in landfills, since even stores like Goodwill have to get rid of unsold clothing. McVay suggested people should try to make conscious choices about what they buy at these "fast fashion" retailers. Instead of buying, McVay recommends refashioning to reduce the environmental and financial impact of buying more clothing.
McVay's first step for refashioning is to find something that inspires you, whether it be a frumpy dress with a beautiful print or an old sweater with vintage buttons. The dress can be remade into something more form fitting and the buttons can be taken off the sweater and put onto something else. McVay had everyone select something from a donated bin of clothing and think of ways to rework it into a new and wearable piece.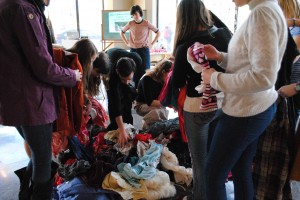 After everyone found a piece of clothing that stood out to them, McVay had some suggestions as to what types of clothing to look for when shopping at either Goodwill or the By the Pound section at the Garment District, and then how to refashion them into something new.
Natural fibers, such as cotton, linen, or silk, do not hold onto body odor and are a good option when shopping for old clothing. No matter how many times you wash synthetic fibers, such as polyester or nylon, the smell will never come out.
Since the Victorian Era, "upcycling" was practiced by many who belted, pinned trims and decorations, and even cut garments to make them into new pieces. With trends transitioning from the runway to Target within months, more original clothing is sometimes hard to come across. However, there are many ways to rework clothing with very minimal environmental impact. One way to do that is to visit the various second hand stores in Boston and "upcycle" something of your own using McVay's own techniques.
BU's School of Visual Arts has collaborated with sustainability@BU to bring events and lectures that respond to current environmental issues. "Making & Wearing: A Sustainable Fashion Workshop with Taylor McVay" is only one of the many events that will occur at 808 Gallery. This series, titled Alternative Visions/Sustainable Futures, runs until April 20.