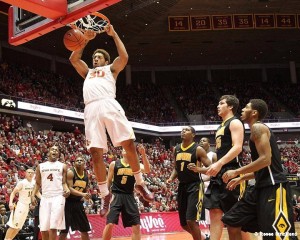 Have you ever heard of a young man, blessed with athletic talent and the body to match, who was willing to hand it all back, willing to give it all up, in order to live a normal life? Or one who was not interested in the life-altering amounts of money and stardom that come with being an NBA player? There is one. His name is Royce White. This 21-year-old, NBA D-League player is an intriguing figure who is torn between the sport at which he excels and the peace of mind he desires.
White has been diagnosed with a generalized anxiety disorder. He has taken medication for his affliction, but it has left him lethargic, a quality unbecoming of a professional athlete. This less than desirable situation has caused him to assess his situation more so than others. While Royce is very open about his issues, like his crippling aerophobia, his story is nonetheless one of twist and turns, and one which the many media pundits of the sports world have told time and time again.
The former Jordan Brand All-American was once a heralded recruit from the University of Minnesota Gopher's basketball program in 2009. After a couple of missteps there, he resurfaced at Iowa State University, transferring in 2010, without playing a game at his hometown university. He was suspended for the year and would later play in 2011.
The 6'8" point forward would excel in the Big 12 conference, leading the Cyclones in points (13.4), rebounds (9.4), assists (5.0), steals (1.1), and blocks (0.9), on his way to an all Big-12 first team selection as well as the Big 12 newcomer of the year. He was able to display his skills in key games like during the NCAA tournament. In a loss to Kentucky, he posted 23 points and 9 rebounds against the Wildcats, who had four out of its starting five drafted in the first round of the 2012 NBA Draft. White cemented the consensus lottery level talent with that performance and the rest of the season.
Nonetheless, White would fall out of the lottery and was taken up as the 16th overall pick by the Houston Rockets. From there, the chips began to fall when he failed to show up to pre-season training camp in September. He reportedly wanted to have a better plan in place for addressing his obsessive-compulsive disorder. He went as far as to consider buying himself a private bus for games where land transportation would be easy.
In December, he was assigned to the D-League, the NBA's version of a minor league, in order to get playing time. White refused the assignment, after initially being compliant. For a month, White and the Houston Rockets entered a stalemate, with White reporting to news outlets that he could never possibly play a minute in the NBA due to a "league-wide" lack of protocol on mental illness. The stalemate ended by late January, with White accepting his assignment to a D-League affiliate, the Rio Grande Valley Vipers. On February 12, he played in his first game, totaling 7 points, 8 rebounds, and 4 assists.
What's interesting is that the story is not over. It is still being written. White has only played around 14 D-League games, after sparking a healthy amount of debate. He has been playing steady minutes, showing the same flashes of potential that labeled him a top talent. At the same time, he has generated a discussion about mental illness and its relationship to professional sports. It's unfair to call him wild, but it is fair to say he's unpredictable. Wherever he goes next as an athlete coping with generalized anxiety disorder is especially hard to say.