It was exactly 12:19 pm in the spring of 1897. Eighteen men lined up in front of Metcalf's Mill in Ashland, MA, and the starting official simply yelled, "Go!" The runners braved winding dirt roads on their journey to Boston to complete the Boston Athletic Association's marathon. It was the very first Boston Marathon, just one year after the first Olympic Games Marathon in Athens, Greece.
By 1907, 124 runners registered for the race, and the bridge that then served as a starting line proved to be inadequate for this race's popularity.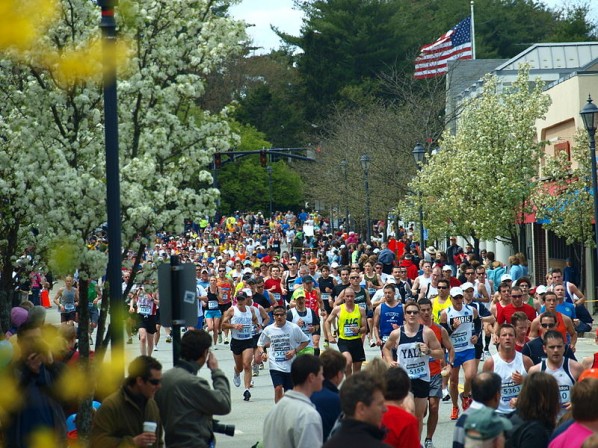 Now, 117 years later, over 27,000 participants hit the streets of Boston in three waves. Runners begin on Main Street of Hopkinton and end their journey in Copley Square. It has become one of the oldest and most prestigious marathons in the country and possibly in the world. Runners train for months and travel from around the world to participate. Around 500,000 fans line up to watch this athletic feat, making the Boston Marathon New England's most widely viewed sporting event, while The Boston Marathon Charity Program raises millions of dollars to various causes, making it most likely the most charitable.
Men ages 18-34 must complete the marathon in 3 hours, 5 minutes to qualify, and women must run it in 3 hours, 35 minutes. Basically, that's under a 7.5 minute mile, sustained for just over 26 miles. That's no picnic. On top of that, registration costs runner a whopping $150 ($200 for international runners).
Basically, this event is a huge deal. Despite all of this, each year, a group of runners seems to slip through the red tape. These are the "bandits." Bandits, or runners who do not register for the marathon but run in the race anyway, have become virtually a tradition in the Boston Marathon.
One group, The Red Snakes, a group from the Kaji Aso Studio in the Back Bay, has been running as a bandit team since the 1970s. They run from the "back of the pack" for the camaraderie, the spirit, the fans, and that delicious post-marathon beer. The Red Snakes note that while the BAA officials dismantle the finish line and fans start to head home, the slower runners and fellow "bandits" are still crossing through Copley Square, celebrating the amazing physical achievement of running 26.2 miles. The Red Snakes cheer on these finishers.
Many registered runners and race officials turn up their nose at bandits, who enter on an elite event such as the Boston Marathon without invitation. But, hey, a marathon is a marathon. Although these finishers may not have a recorded time and are unable to hang a Boston Marathon medal of their wall, they do it. They run for 26.2 miles, just like those who paid the fee. They train, they hurt, they sweat, they feel the same nerves, and they endure the same conditions. Let's hear it for the underdogs!