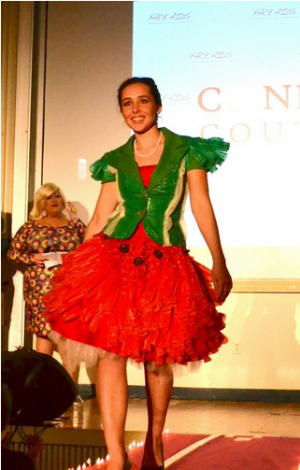 What do the Student Health Services, the "Condom Fairy," and BU FACE AIDS all have in common? They're not afraid of safe sex or free condoms.
On Thursday, April 11, at 7 p.m., in Jacob Sleeper Auditorium, BU FACE AIDS, a student-run nonprofit chapter focused on raising money and awareness for Partners in Health, showed just how fun and fearless HIV/AIDS education can be by holding their first ever Condom Couture fashion show, in which all outfits that went down the runway were made resourcefully out of condoms.
With a total of 12 designers and over 12,000 donated condoms, the show began meeting and planning as early as December, according to head event organizer Jeremy Meltzer (SAR '13/SPH '14).
"We had two main goals with the event: raise money for Partners In Health and put on a fun, novel event for the BU community. We sold more than 250 tickets and raised more than $2,300 so I think it was fairly successful," Melzter said.
Adding to the atmosphere of the event, the show was hosted by two drag queens, Liza Lott and Kris Knievil. Their sassy and self-deprecating comments added a comic relief in between outfits.
A panel that consisted of BU professors, Partners in Health employees, and health professionals judged the outfits. The winning outfit was worn by Catie Tobin (SAR '15) and was designed by both Meredith Hoobler (CAS '15) and Emma Dwyer (SMG '15).
One audience member, Jeffry Volpintesta (CAS/SAR '15), attended the event out of curiosity and found himself in both an entertaining and eye-opening experience.
"Aside from being phenomenally creative, it seemed like a large amount of time and thought had been put into their creation and design. I actually found myself looking past the condoms and just thinking of it as simply a dress," Volpintesta said.
And as Volpintesta noted, time and thought were exactly what went into the designs. One designer, Elia Cole (SPH '14), spent 40 hours on her dress with the theme: "1950s Garden-Party Housewife meets Empowered Business Woman at a Watermelon-Themed Soiree."
Although Cole's dress did not make the top three, she is currently auctioning the dress off on eBay to raise more money for Partners in Health. The bidding ends April 22 and can be viewed at http://www.ebay.com/itm/Watermelon-Condom-Dress-Fundraiser-for-HIV-AIDS-/321106411219.
With such a successful event the first time around, BU FACE AIDS is hoping to make this annual. They are currently working on putting together a BU FACE AIDS team for AIDS Walk Boston. BU FACE AIDS can be contacted at bufaceaids@gmail.com. They are also on Twitter at @BUFaceAids.