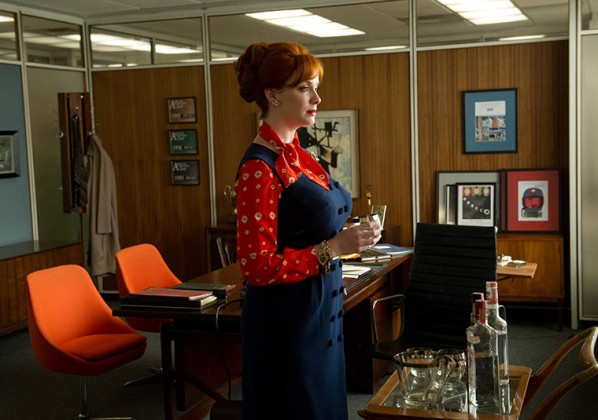 "What do you have to be guilty about?"
"I'm a horrible person."
Characters on AMC's Mad Men are falling back into old patterns, as they have done over and over again. It's been a repeated theme on this program that people essentially do not and cannot change–that they will continue to make the same mistakes and hurt the same people until it's too late. This week's episode languished in that fact, finally allowing the collective remorse generated by each character's actions to pool and overflow. The problem is, guilt has no net impact unless it is followed by repentance and reformation, and in Mad Men's world, especially now, there isn't much chance of that.
Of course, Don lies at the center of this storm. Though Sylvia is a new face and a fascinating character on the show, the machinery surrounding Don's affair with her is old news, rooted, as we saw in this episode's flashback scenes, in a prolonged and distorted attitude towards women. The brothel that Don grew up in melts into the hallway of his own apartment building, and Don is delivered at Sylvia's door. As he throws money at Sylvia on his way out, she could be the same woman to him as the cooing, red-swathed blonde on the couch in Mack's establishment–to Don, all women are whores in some way, and he will continue to treat them as such.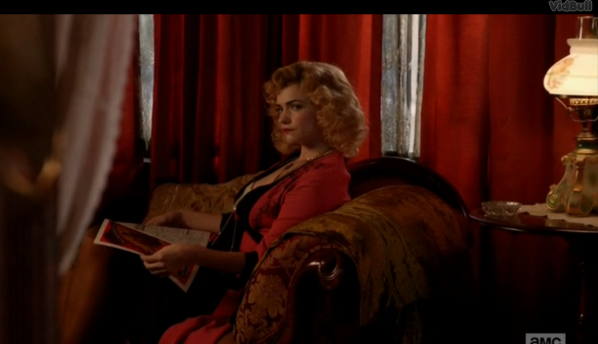 Throughout the episode, we see characters placed at odds with their surroundings. The colors blue and red play a significant role in linking characters together in guilt, especially against the show's many warm-toned mid-'60s surroundings. Megan wears a quilted ice-blue bathrobe that echoes Betty's blue coat from seasons past and, in this episode, Sylvia's two blue dresses. A sunny blue painting of sailboats somehow looms over a meeting with a furious rep from Heinz Baked Beans. Red manifests in scenes of sexual turmoil, as on the prostitute in Don's flashbacks. Joan is a clash of red and blue, guilt and sex, as she verbally cuts down the man who put her in the impossible position of ultimate sexual commodification.
Catholicism, and the guilt traditionally associated with it, runs through the principally featured female characters on the show. Sylvia's religion hangs around her neck, used as a defense and also as a weapon against her. "You want to feel shitty right up until the point where I take your dress off," Don says to her almost cruelly over a tense dinner. Sylvia expresses (feigns?) resistance, but quickly they are in one another's arms, even as she says, "I'm sorry, I'm sorry." Megan remembers her Catholic upbringing as she processes her miscarriage in a collared shirt and sweater combination suited more for a Catholic schoolgirl than for a modern young actress of the late '60s.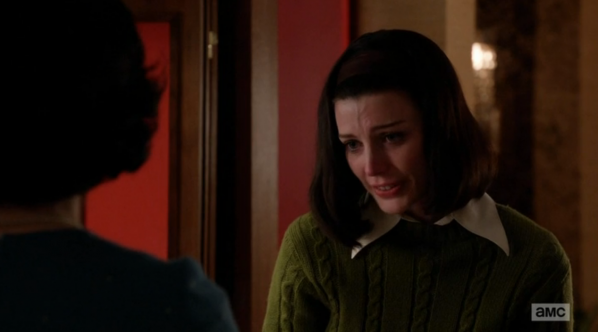 Pete Campbell's continuing, desperate struggle to become Don Draper has imploded in spectacular fashion. Pete is no Don, and carrying on with a married neighbor was bound to fail–and it does, sloppily and violently, paralleling but not quite matching Don's affair. Trudy quickly snatches the upper hand, delivering a Dynasty-level insult and showing, again, Pete's essential weakness. Of course, Pete makes the wrong decision, and he leaves pouting and petulant, learning nothing. Trudy is at home in her surroundings, wearing florals to match the many other florals in her home, and she swiftly expels Pete from her environment. The rapid dissolution of the Campbell marriage lacked the weight of the Draper marriage because it simply followed the same pattern as the Draper one, but far more sloppily.
Peggy, meanwhile, is defined by ambition and persistence–traits that can never change. They've advanced her professional life by miles–she knows exactly what she is doing–but continue to throw her personal life into the can. She is poorly liked, chided by her fabulous and sharp-witted secretary for treating her staff impolitely and given a douche in a can as a prank product, and continues to make things worse when she opens her mouth. "You have nothing to do with the fact that the work needs work," she says to her team in an effort to be motivational. Just like Don, she always says the wrong thing.
This episode saw very little going forward. It ruminated, but then either stagnated or weakly popped. Where the show will go from here is dubious–something has to give, but where that will occur is unclear.