Adam Vevang is a freshman at Boston University's College of General Studies. In the wake of Monday's tragedy, he wrote and submitted a poem entitled A Runner's Day to The Quad. It is published below in full. If you'd like to contact Adam, his email is avevang@bu.edu.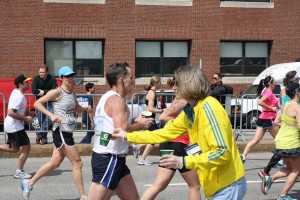 A Runner's Day
By Adam Vevang
The anticipation, the excitement,
The stories and the smiles,
All come on Sunday.
We wake up early,
Look at the weather,
Look at the sky,
Beautiful,
Perfect,
A 'Runner's day.'
We drank a little,
We hugged some more,
We took pictures to remember,
And we smiled.
Mile 24
Runners fading,
I reach for a high five,
I offer words, confidence or inspiration,
2.2 miles left
What a beautiful sight.
Soldiers in full uniform carry flags as they run,
Inciting U-S-A chants as they pass,
Bringing together a great nation,
What a beautiful sight.
2:30,
Kenmore Square fills as the Red Sox game ends
Sox fans flood Brookline Avenue to watch,
A beautiful event,
A beautiful sight.
3:00,
Your phone rings constantly, buzzes constantly,
Parents and friends, who can only wonder,
Pray,
At the same time,
You call your Boston friends,
"Are you safe?"
You hope to hear their voice again,
See their face again,
Hug them.
…But all you get is a voicemail.
With phones to their ears,
Your group doesn't talk,
You pray for a voice on the other line,
The relief when someone yell's,
"Andrews ok"
…But the process hasn't ended.
Your phone beeps three times….
Call failed,
"The wireless customer is not available."
Tears flood my eyes, as I hear my cousins voice echo through my head,
Will I hear that beautiful voice again?
Call again, and again.
"Hello?"
Your heart begins to beat normally,
"Colin is fine, were all resting."
Relief?
For that second.
Yes.
Can you sleep at night?
Maybe.
But what will tomorrow be like?
You lie in bed,
In one piece,
Safe,
Searching for answers,
You were a mile away,
A decision away,
You chose to eat quickly, before heading to the finish line,
You chose Starbucks five minutes before the first explosion.
Tuesday morning,
Universities reopen,
Business resumes,
But no more answers,
Just higher numbers.
Nobody is a mind reader,
Yet everyone is today,
Thought bubbles appear above everyone's head,
But it isn't a cartoon,
It is real life—
Rather surreal life—
We can't help but ask,
"Is the world falling apart?"
No…
It's coming together,
Boston Police Department,
Boston Fire Department,
And the government aid,
Then the unsung heroes,
Citizens who ran to, rather than away from the blast,
The runners,
After 26.2 miles,
Who kept running,
To give blood to the injured,
And the doctors,
Working around the clock to save lives.
You don't want to need these heroes,
But it is reassuring to know they exist,
So when you ask,
"Is the world a bad place?"
The heroes' answer, with a loud voice,
No.
While one person has ruined a city and its proudest day,
Thousands rise,
Bostonians are prouder than ever,
Bostonians with an open room, an open couch,
An open door.
I have never seen more love,
What a beautiful sight.
As I walk the streets now,
A siren brings tears to my eyes,
A helicopter overhead causes only sadness,
I pass people, quiet as they walk to class.
I am not a mind reader,
But today I know everyone's thoughts.
In this city's incredible resilience,
I have a flashback,
I hear just one thing now,
Jack Buck, at the first St. Louis Cardinals game after 9/11
"I don't know about you, but as for me, the question has already been answered. Should we be here? Yes!"